Ford BA Falcon XR6 Turbo (2002 - 2007) Buyers Guide
---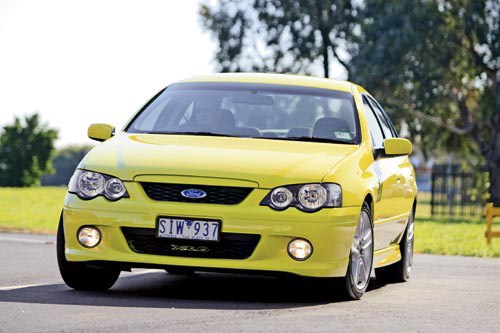 Ford BA Falcon XR6 Turbo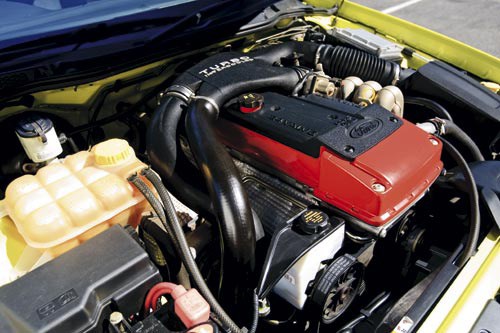 Ford BA Falcon XR6 Turbo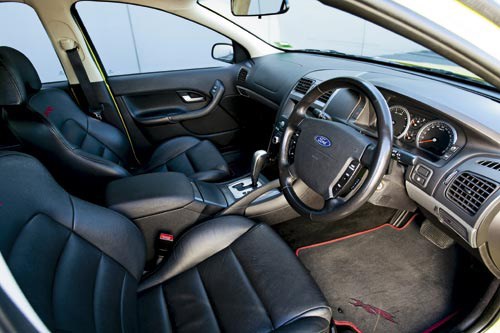 Ford BA Falcon XR6 Turbo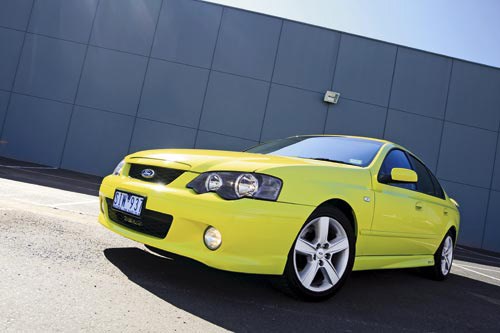 Ford BA Falcon XR6 Turbo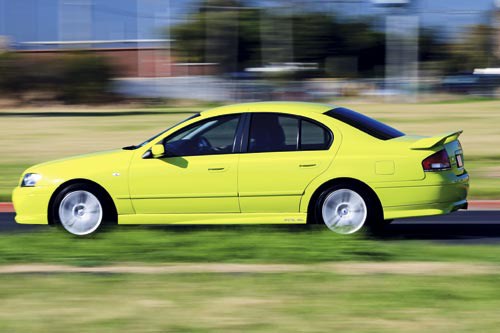 Ford BA Falcon XR6 Turbo

Ford Falcon XR6 Turbo. What you need to know before you hand over the cash for one of these great Aussie classics
Ford BA Falcon XR6 Turbo (2002 - 2007) Buyers Guide
Unlike Holden, which enjoyed significant success with its VL Commodore Turbo, Ford spent decades avoiding a forced-induction Falcon.
During the 1980s, turbo specialists attempted to replace discontinued Falcon V8s with privately-developed cars, including a twin-turbo XF 4.1-litre with all-wheel drive, but none were commercially successful.
Ford's XR6 had been a performance revelation since being launched in 1991 as a supplement to the EB range. By 2002, with the BA Falcon sporting an extensively revamped 24-valve 4.0-litre six, turbocharging presented as a logical route to affordable performance.
The BA version used a single Garrett turbocharger set to deliver a moderate 0.4 bar of boost. The compression ratio was down only slightly on the normally aspirated XR6 (8.7:1 against 9.7:1) so drivers weren't left sitting with a Kenworth up their clacker awaiting the arrival of some urge. Torque delivery from the boosted engine began below 2000rpm and topped out at a substantial 450Nm.
The ageing T5 five-speed manual was best at exploiting the XR6T's straight-line performance but for city and winding-road use, the four-speed auto delivered instant and stress-free response.
BA Turbos began at $44,640, or almost $6000 more than the 'atmo' car. At that price they still lacked the near-essential 'Premium' brake package, which added $2900 to the basic cost. Spending an additional $920 replaced the five-speed with the mode-selectable automatic.
If you didn't need five seats but did want space in the back for a cement mixer or dirt bike, the turbo-engined XR6 ute hit the market at a very enticing $39,675.
Two years after the XR6T's introduction, an improved BA MkII model arrived. Most significant was replacement of the long-serving five-speed manual with a new Tremec six-speed. The improved ratio spread allowed easier use of fifth gear in suburban driving and consequent improvement to fuel consumption. Also new was automatic headlight activation, restyled wheels and an expanded colour range.
Over at Ford Special Vehicles, the mood was shifting from expensive imported V8 engines to extracting increased levels of performance from the tried and proven 4.0-litre. At almost $60,000, FPV's F6 Typhoon was the fastest six-cylinder car ever made in Australia. Power output was a thundering 270kW and with 550Nm, it delivered more torque than any locally-made production engine in history.
So nervous were FPV's engineers about all that thrust ripping the guts out of the four-speed automatic that Typhoons were initially built only with the six-speed, T56 manual. Stronger engine internals, 50 percent more boost than the XR6T and a 50 percent larger intercooler, better brakes and bigger wheels were some of the attributes justifying the Typhoon's $15,000 jump in list price.
In late-2005, the incentives to buy a turbo-six Ford became even more impressive. The BF model arrived late in the year and cost a still-attractive $47,655 - the extra buying improved brakes and 5kW of additional power. A bigger change was the ZF-supplied six-speed automatic gearbox - as found in the Audi A8 and Jaguar V8s - as a $1355 option. A six-speed manual transmission remained available but used market numbers confirm that Ford didn't sell many.
A new airdam improved flow to the intercooler, the trim and centre console were smartened and the wheels restyled again but remained at 17 inches. Premium brakes were still optional and there were more eye-popping new colours.
The revamped Typhoon had Brembo brakes standard, 18-inch wheels (with 19s optional), a distinctive stepped front bumper and Euro III emission controls that, Ford claimed, improved fuel economy.
ON THE ROAD
Whatever the brawny 5.4-litre Falcon GT could do, the technology of 4.0-litres-plus turbo could match and even exceed.
The turbo car's major advantage came via reduced weight (90kg in BF form) and consequently better balance over the more powerful XR8. Sharper-edged steering with 2.6 turns lock-to-lock made the Turbo Falcon more pointy and way more fun than seemed decent for a large car seating five.
The front seats were a major improvement on preceding sporty Falcons, with better side bolsters and padding. From the BF onwards, even those sitting in the back were treated to a properly shaped bench with boot access.
BAs with Luxury Pack inclusions get very sumptuous, leather-trimmed seats, climate control air-con, uprated sound system and sometimes rear power windows.
Even when hindered by a clunky five-speed gearbox, the BA Turbo was a very fast and interesting car. The driver had to work for the thrills though - anticipating the arrival of maximum boost and picking change-up points to maximise performance.
The auto 'box normally operated in 'Economy' mode, saving effort and fuel around town. The intuitive 'Performance' mode employed wheel and throttle-position sensors to match shift points to the way the car was being driven.
Manual mode allowed one-touch gear shifts and would hold a chosen ratio until the rev cut-out. XR6T and F6 Typhoon both came with traction control to keep all that grunt in check on slippery surfaces.
First-gen turbos were capable of cracking a 6.0sec time for 0-100km/h. The Typhoon was 0.3 faster but brutal standing starts were deadly to its expensive twin-plate clutch. Mid-range acceleration was strong without being startling - 4.1 seconds for 80-120km/h in a BA and 3.6 for the six-speed Typhoon.
Performance delivery when unfettered by traffic or speed limits was the real revelation. Tested on the Calder race circuit in 2005, a Typhoon automatic was fully two seconds per lap faster than the heavier, 290kW GT-P V8.
Where the Turbo will lose ground is in fuel range. With tank space for just 68 litres, an XR6T carrying a full load of passengers or having its performance exploited will slash the distance between refills to below 400 kilometres. Under 'normal' driving conditions, an XR6T should average 11.5-13L/100km.
BUYING
It is said of expensive cars that if you need to ask the price you can't afford one. Check used market values for an XR6T and you'll wonder how you can afford not to own one.
It is fair to say that XR6 sales have kept the Falcon alive. In 2007, Ford admitted that almost 30 percent of Falcon sales were XR6s and probably half of those were turbos. Hunt through online classifieds and literally hundreds of pre-2008 models will appear, so buying choices can be filtered by preferences of colour, options and location.
Prices begin, quite incredibly, at less than $10,000, although you will need to be lucky to wheedle a car without problems for that money. Shopping in the $15-20,000 price range delivers plenty of very good BAII cars and exceptional 2003-04 BAs. Add $5000-8000 for an equivalent-condition BF.
Finding a good Typhoon is relatively easy too. Good BAs range from $25,000 to the mid-$30,000s. Very low-kay BF F6s are 10-30 percent more expensive than the preceding model.
SPECIFICATIONS
Ford BA Falcon XR6 Turbo (2002 - 2007)
NUMBER MADE: N/A
BODY: All-steel, combined body/chassis, 4-door sedan
ENGINE: 3984cc 6cyl, DOHC, 24v fuel injection, turbocharger
POWER: 240kW @ 5250rpm*,  450Nm @ 2000rpm*
SUSPENSION: Independent, upper & lower wishbones, coils, anti-roll bar (f); independent with multi-links, coils, telescopic shock absorbers
BRAKES: disc/disc, with power assistance & ABS, EBD
TYRES: 235/40ZR17, 245/40ZR17
PERFORMANCE: 0-100km/h 6.0sec, 0-400m 14.3sec*
PRICE RANGE:  $7000-30,000
CONTACT: Ford XR Clubs www.fpvxrclub.com
* BA manual
Unique Cars magazine Value Guides
Sell your car for free right here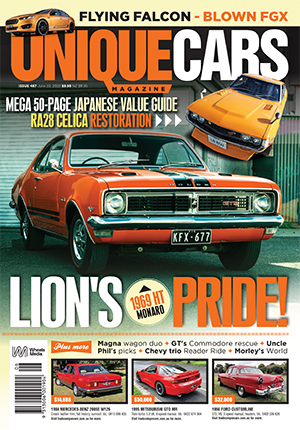 SUBSCRIBE TO UNIQUE CARS MAGAZINE
Get your monthly fix of news, reviews and stories on the greatest cars and minds in the automotive world.
Subscribe