Nissan 200SX: Future classic
---
Future classic: Nissan 200SX. What you need to know before you buy
Nissan 200SX
After Nissan's first drop-dead gorgeous Silvia coupe - built on Fairlady underpinnings - arrived in 1966, it would be a long time between drinks for Australian fans. The November 2000 factory release of the S15 200SX, a Silvia by any other name, marked a jaw-dropping return to form, particularly in the looks department, for a Silvia heritage that has since exploded with private imports.
Unlike its later Toyota Celica rival, which switched to the FWD Camry platform in 1985, the Silvia pedigree remained faithful to the rear-drive original, independent of Nissan's FWD models. After the original Silvia disappeared in Japan in 1968, the series was revived with Silvia and Gazelle badges in 1975 as the S10, but not here. We had to wait until 1984 for the later S12, powered by a fuel-injected version of the twin-plug CA20 Bluebird engine later offered in the Pintara. After gaining IRS late in '85, the Gazelle became a welcome, but softer, alternative to the Celica before it was withdrawn again in 1988.
The FWD, Pulsar-based EXA/NX ranges held the fort until Nissan stopped the local market in its tracks with the return of another RWD Silvia, the hot S14-series 200SX, in 1994. Following its '96 facelift, this son-of-Skyline became the pin-up for a new generation of rear-wheel drive fans not beholden to a Commodore.
But the best was yet to come. Two years after its launch in Japan, the new S15 series finally arrived with structural upgrades, fresh styling and a sub-$40,000 starting price. Because this special local version featured the outgoing powertrain, it bypassed the 100-octane fuel requirement that had excluded it earlier.
A reduction in size, with a stronger scuttle panel, reinforced rear pillars, front and rear strut braces, extra sub-frame bracing at both ends, and no extra weight, left the S15 200SX with a new, thoroughbred feel.
The proven SR20DET turbo four, based on the Pulsar SSS engine, continued with 147kW at 6500rpm and 265Nm at 4800rpm. Already upgraded internally for the S14, further tweaks to the intercooler, ignition and turbo bearings left plenty in reserve. A new Aisin Seiki six-speed manual transmission, dual-mass flywheel and clutch, new helical limited-slip differential (as fitted to the R34 Skyline GT-R V-spec) and a new multi-link rear suspension were more useful than any increase in grunt.
The upper-level Spec R manual with sunroof, side skirts, six-CD stacker and rear spoiler remains the prize. A limited edition GT released in May '02 added leather front seat trim, leather steering wheel, chrome alloys and drilled pedals. For $17,000, there is still nothing like it this side of a hot BMW.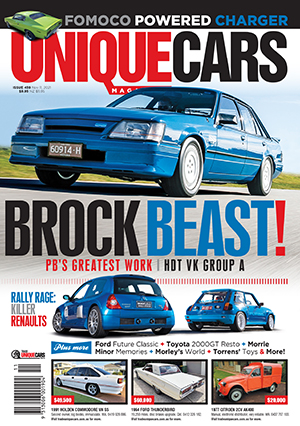 BLACK FRIDAY SALE ON NOW: Save 50% on a Unique Cars magazine subscription
Australia's classic and muscle car bible. With stunning features, advice, market intelligence and hundreds of cars for sale.
Subscribe