Alfa Romeo Spider (1966-94) Buyers Guide
---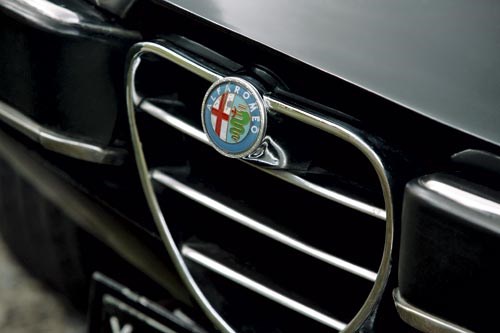 Alfa Romeo Spider (1966-94)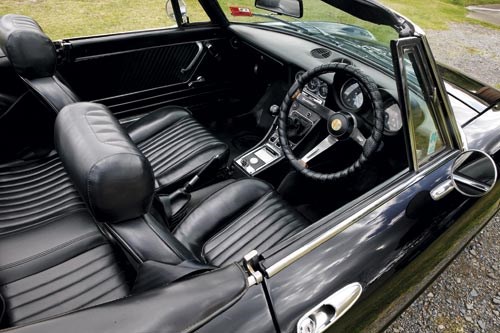 Alfa Romeo Spider (1966-94) interior
Alfa Romeo Spider (1966-94) engine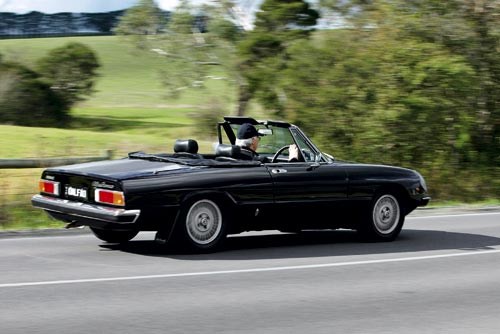 Alfa Romeo Spider (1966-94)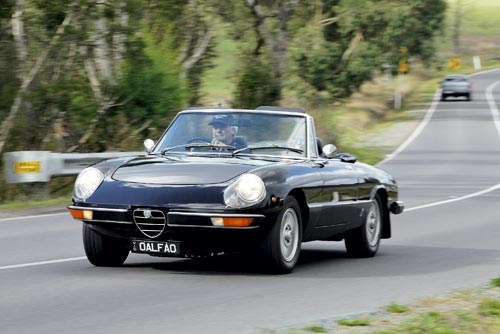 Alfa Romeo Spider (1966-94) front

Tips for the Alfa buyer
Alfa Romeo Spider (1966-94)
Few cars possess the mass appeal of Alfa's glorious Spider and these days they represent great buying.
'Classic' is a term that is overused and difficult to define. Even the world's most dogmatic dictionaries can't provide a single meaning, but the standout in an automotive context would likely be; 'an object or attitude that is largely unaffected by changing fashion'. With ageless lines and film-star status, the Pininfarina-bodied Alfa Romeo Spider qualifies absolutely.
The shape introduced at Turin's 1966 Motor Show survived 28 turbulent years with just one significant restyle. Appropriately for a twin-cam, two-seat car it was called 'Duetto' and the man who won the competition to choose its name was rewarded with one of the first-built examples.
Early Duettos shared their 1.6-litre engine with the GTV coupe; 81kW propelling 998kg for a top speed of 178km/h. With a five-speed gearbox and all-wheel disc brakes, the open-top Alfa was more sophisticated than TR Triumphs or the disc front/drum rear Datsun 240Z. Its closest rival for US and European sales was the Fiat 124 Spider - a car that was never sold new in Australia.
For 1969 the engine was enlarged to 1779cc, power increased 24 percent to 100kW and the Duetto name was dropped in favour of '1750 Spider Veloce'. While not precisely reflecting the car's engine size, its new designation paid tribute to Alfa's famous 1750 Super Sport from the early-1930s.
A restyle that lopped the original car's curved tail into a flat but more aero-friendly slab came in 1969 and engine size was increased from late-1971 to 1962cc.
In this form, the Spider enjoyed strong world-wide sales, with production during the 1970s averaging 4500 annually and reaching a peak of 5584 in 1980. A 1.3-litre Spider Junior was available from 1969-72 but most of the 7200 made were sold in Europe.
Australian Spider sales ended in 1976, ahead of requirements to comply with new emission control measures. The North American market was too important to countenance an Alfa retreat, so cars sold there were equipped with heavier 'Federal' bumpers and fuel-injected engines that cut power by six percent.
1983 brought the ironically-designated 'Aerodynamica'. These carried bigger and even uglier rubber bumpers than late-1970s versions and weight soared to 1160kg while power remained at 93kW.
A rubber boot spoiler helped justify the new designation, with alloy wheels and an optional body kit. The Spica mechanical fuel injection adopted in 1978 to meet US emission standards was replaced by a more reliable Bosch system.
'Green Cloverleaf' cars with remodeled spoilers appeared in 1986, along with a 'Graduate' model that traded on memories of Dustin Hoffman's Duetto-driving role in the 1967 film of the same name.
Twenty five years after the Duetto's debut, its reign as Alfa's best-selling sports car came to an end. In Series 4 form, the Spider had larger taillights lifted from the 164 sedan, improved fuel-injection, new 15inch wheels, body-coloured bumpers and power steering. This proved to be the most successful Spider of all, with 1991-94 production totaling 14,669 cars.
ON THE ROAD
Providing good quality oils are used and regular maintenance schedules have been observed, twin-cam Alfa engines are durable and can be worked remarkably hard.
Most potent are 2.0-litre versions from the early-1970s. Power output matched the 150bhp (111kW) produced by Triumph's 2.5-litre TR6 and top speed reached the 120mph (193km/h) benchmark as well.
Acceleration from 80-110km/h in 6.7secs put the 'sissy' Alfa a few tenths ahead of the brawny TR6 and matched the pace of Datsun's equally macho 240Z.
Fuel consumption averaged a respectable 11.2L/100km but that figure blows out by more than 10 percent for 1980s cars with their emission-restricted engines.
Standard Spider seats offer plenty of adjustment and reasonable support. Pre-1969 cars have a different floorpan to later models and reportedly offer greater leg room, which brings us to the topic of pedals.
Rather than hanging from the firewall, the pedals fitted to early Spiders rise from the floor like those in VW Beetles and can be a serious pain in the ankle to some drivers. Before falling in love with the look or sound of a Spider, drive one for at least half an hour and be sure to include some stop-start main-road driving.
Ride when new was a little soft and enthusiastic owners opt for upgraded shock absorbers and improved suspension bushings. Four-wheel disc brakes were still a novelty in the 1960s and virtually nothing of the Spider's weight and performance (except other Alfas) had them. Judged by today's standards, pedal pressures are a little high but the stopping power delivered by a well-maintained system is impressive.
The original tyres were skinny 165-section radials and can be replaced by slightly wider (185 or 195) and lower profile replacements that put an extra 20-30mm of rubber on the road without needing to discard the original rims. Increasing front tyre pressures so they are slightly higher than the rears will reduce understeer without making the car unduly nervous.
The Spider hood was among the convertible world's better efforts and designed for single person use. Some cars that reached Australia hide the folding top almost permanently beneath a hardtop that looks a little strange but provides excellent all-round visibility.
BUYER'S CHECKLIST
Body & Chassis
It's an Alfa, so rust is the dominant concern for potential buyers. Cars that were comprehensively restored 15-20 years ago are likely to be suffering again from corrosion to varying degrees. Front mudguards, door sills, wheelarch lips and the front apron are spots to examine first up for bubbling and evidence of filler. Lift the carpet adjacent to the inner sills to look for moisture and rust and the spare wheel well for similar problems. The convertible top was designed to be raised one-handed from the driver's seat - if it is reluctant to move or won't latch easily the covering may have shrunk or the frame is twisted.
Engine & Transmission
Lie flat on the ground - armed with a torch if necessary - to check the alloy sump and its vulnerable cooling fins for speed hump damage. Oil in the coolant is a sign of internal engine corrosion or, at best, a defective cylinder head gasket. Clattering when starting from cold is symptomatic of a tired timing chain or worn camshaft. Look at the inner face of the radiator for scarring caused by contact with the fan blades. Worn or broken engine mounts will be the culprits. Fuel-injected cars in need of a service will blow black smoke when starting. Gear noise under acceleration and reluctance to engage second gear characterise a transmission that's overdue for an overhaul. Misfiring can be due to cracked spark plug leads.
Suspension & Brakes
Rear-wheel steering and instability under brakes are likely due to worn bushes in the trailing-arm rear suspension. Inspect the inner edges of all the tyres for signs of misalignment. Bouncy front shock absorbers can be replaced with gas-adjustable units for less than $500. The brakes on Spiders don't work hard but shuddering suggests warped discs. A sinking pedal can signify a failing master cylinder or the problems with later cars' dual brake servos.
Interior & Electrical
Sun is the enemy of European plastics and Alfa interiors aren't particularly resilient. Look for cracks in the dash and console, warped door trims, deterioration of switches and seatbelt fittings. Seat stitching splits but is easily repaired. The original steering wheel is likely to have decayed and been replaced by an after-market wheel. With the engine running, activate a few electrical items simultaneously and watch for errant behaviour like headlights that pulse in unison with the indicators or flickering gauges.
SPECIFICATIONS
Alfa Romeo Spider (1966-94)
NUMBER BUILT: 23,283 (1966-78)
BODY STYLE: all-steel integrated body/chassis, two-door convertible
ENGINE: 1.6, 1.8 & 2.0-litre four-cylinder with double overhead camshafts, twin sidedraft carburettors or fuel injection
POWER/TORQUE: 111kW @ 5500rpm/207Nm @ 3500rpm (1971-76 2.0-litre)
PERFORMANCE: 0-96km/h - 9.7secs, 0-400m - 16.6secs (1971-76 2.0-litre)
TRANSMISSION: five-speed manual
SUSPENSION: Front - coil springs, wishbones, anti-roll bar and telescopic shock absorbers. Rear - live axle with coil springs, trailing arms, anti-roll bar and telescopic shock absorbers
BRAKES: four-wheel disc, power-assisted
TYRES: 165 HR/14 radial
CONTACT: Alfa Romeo Owners' Clubs in most state.
Website: www.alfaclub.org.au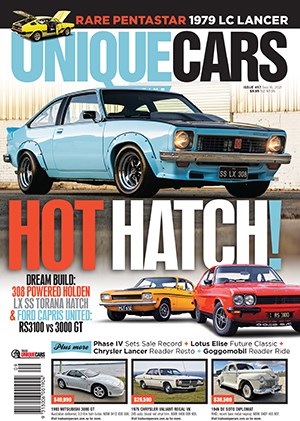 Subscribe to Unique Cars Magazine and save up to 42%
Australia's classic and muscle car bible. With stunning features, advice, market intelligence and hundreds of cars for sale.
Subscribe