Triumph Dolomite Sprint (1973-80) Buyers Guide
---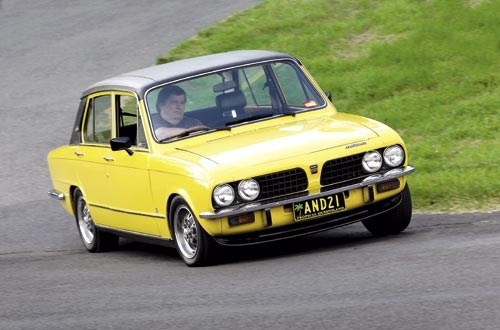 Triumph Dolomite Sprint (1973-80)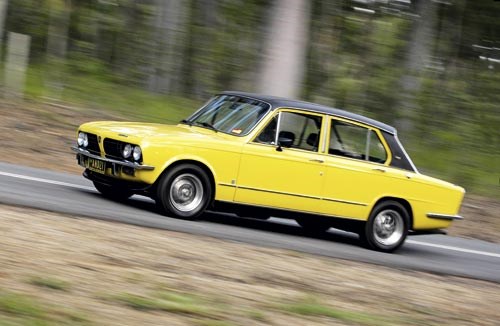 Triumph Dolomite Sprint (1973-80)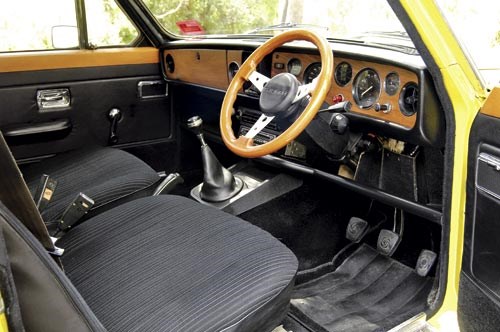 Triumph Dolomite Sprint (1973-80)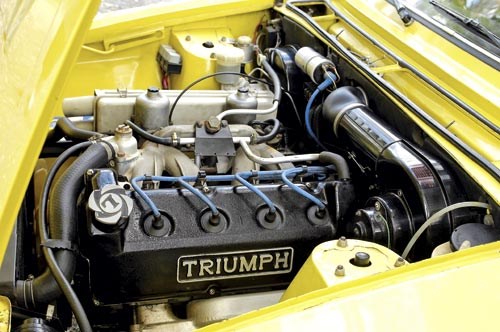 Triumph Dolomite Sprint (1973-80)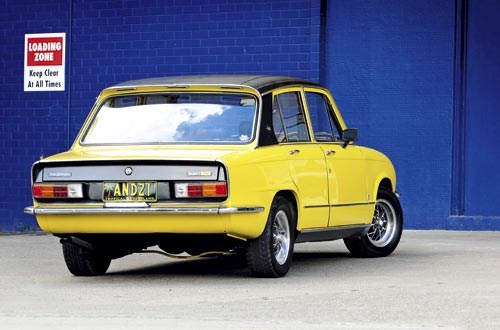 Triumph Dolomite Sprint (1973-80)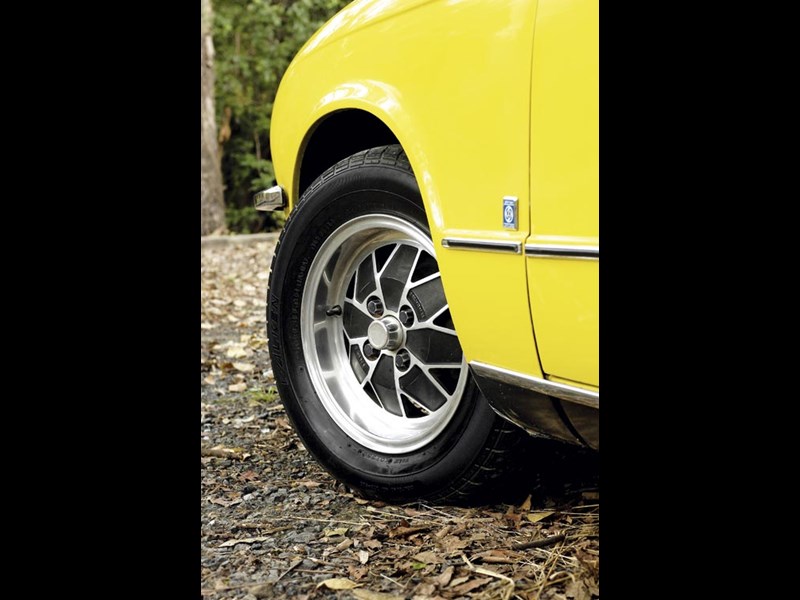 Triumph Dolomite Sprint (1973-80)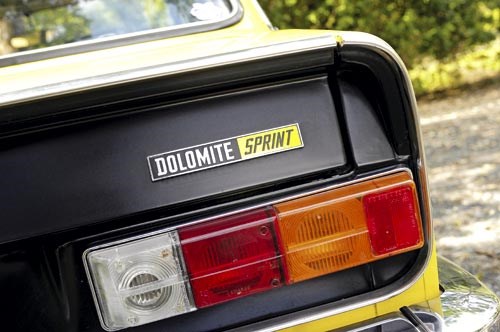 Triumph Dolomite Sprint (1973-80)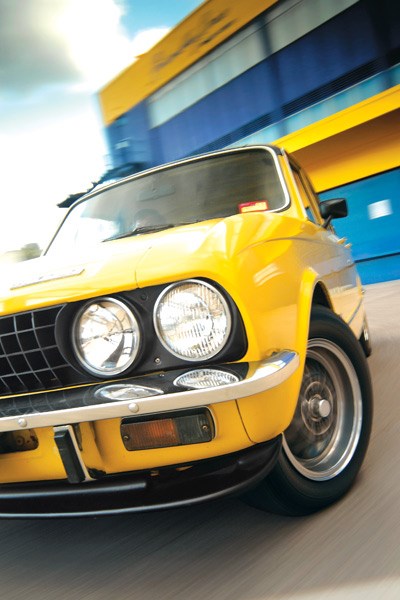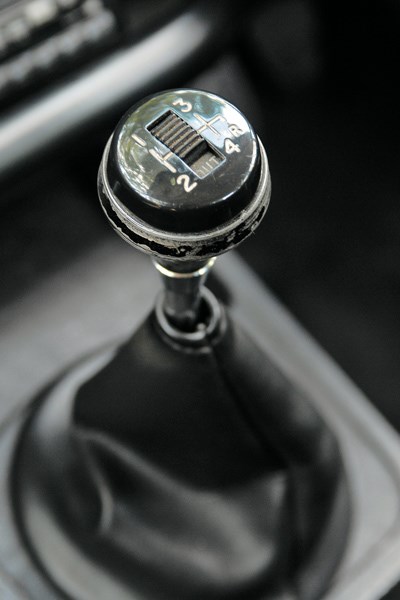 With a racing pedigree and plenty of standard kit Triumph's Dolly Sprint makes excellent buying… if you can find one
Triumph Dolomite Sprint (1973-80)
Considering the debacle that was British Leyland during the 1970s, it's miraculous that any cars at all were produced by this troubled organisation, let alone something with the character of the Triumph Dolomite Sprint.
Leyland had long sought an answer to Ford's high-profile Twin-Cam Escort and the BMW 2002. The 1.8-litre Dolomite sedan that replaced its long-serving Herald provided a workable platform plus the marketing advantage of a four-door design.
Having invested heavily in its V8 engine rather than sharing the alloy Rover motor, Triumph needed to maximise the sales potential of its investment.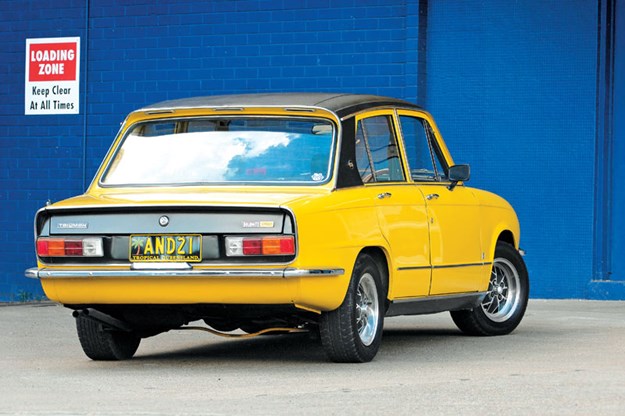 Slicing the Stag V8 in half and enlarging the bore to deliver 1998cc was only part of the task. Generating sufficient power to challenge twin-cam rivals demanded further creativity and a ground-breaking 16-valve cylinder head provided the solution.
Among those who collaborated on the ingenious single-camshaft design were Spen King - 'father' of the Rover 2000 and Range Rover - and Walter Hassan who had been on the team that created Jaguar's XK engine almost 30 years earlier.
The head was cast in alloy, fed by twin SU carburettors and with a dual-pipe extractor exhaust. Showroom-stock engines produced 95kW and that could be easily boosted to more than 110kW for competition use.
The first British Sprints appeared in 1973 and production continued until the 1980 closure of Triumph's massive Canley factory. Australian sales began in late-1975 but were discontinued three years later.
For reasons best known to Leyland's marketing department, all cars supplied new to Australia were yellow with a black vinyl roof. In the UK and other export markets, white, red, green and even magenta were available.
Priced at $7710 when it arrived and actually becoming cheaper - $7495 when sales ceased - the Sprint came with reclining, cloth-covered seats, timber dash and door cappings and GKN alloy wheels.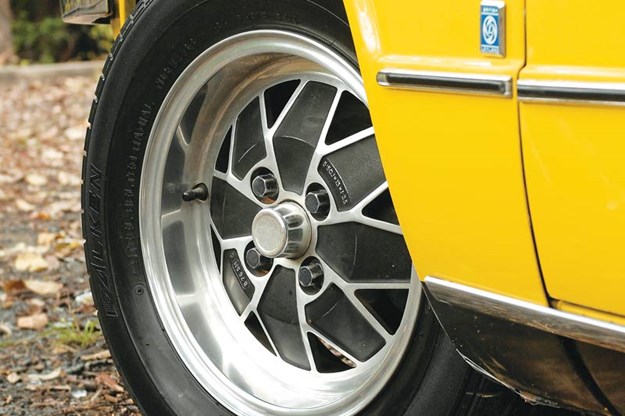 In Triumph tradition the gearbox was a four-speed manual with overdrive on the top two ratios. Top speed in direct top was 182km/h and fuel consumption, despite the thirst of two SU carburettors, averaged 11L/100km.
The Dolomite had a few tilts at Bathurst 1000 honours; its best result a fifth in class at the 1978 event. Shorter races on tight tracks like Sydney's Amaroo Park circuit saw Dolomites hounding the Capris and rotary Mazdas and heading some slower V8s as well. However, it was in her homeland that Dolly did best when Andy Rouse won the 1975 British Touring Car Championship.
ON THE ROAD
'Feisty' provides the best one-word description of the Dolly Sprint's character. It's a chunky and aggressive-looking little car, crouched low over those distinctive wheels and with the combination of vinyl roofing and blackout panels masking a fairly dated design.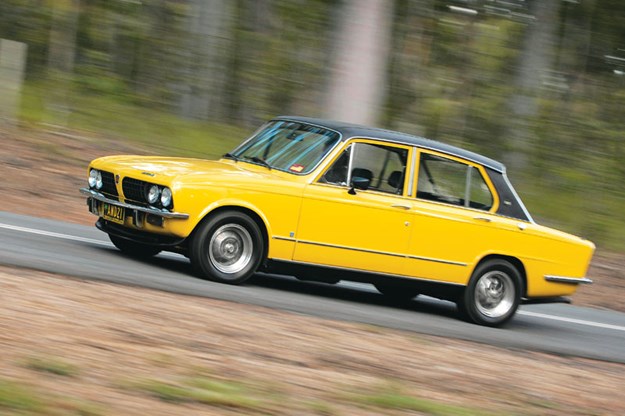 The tachometer is redlined at 6500rpm and drivers who don't regularly exploit the engine's appetite for full throttle and high revs will miss the most endearing aspect of Sprint ownership.
When working at and near its 5700rpm power peak, the engine generates a purposeful growl that resonates through the cabin and is far more entertaining than intrusive. Maximum torque doesn't arrive until 4500rpm, so keeping the engine spinning quickly is essential to maintaining pace on undulating or twisty roads.
The gearshift doesn't quite match an Escort for slickness or positive feel but it has one major advantage over most rivals; flipping the thumb switch mounted in the gearknob activates the overdrive which operates on third and top gear. While exceeding 5000rpm in O/D top requires a long downhill run, maximum speed in third jumps from 142km/h to an easily-achieved 175km/h.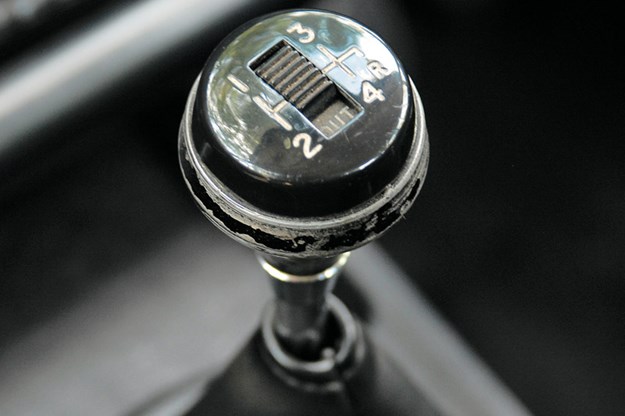 Acceleration through the gears is a little down on expectations: 0-100km/h takes almost 10secs and tests recorded 17.3 for the standing 400m. In-gear times are better - 80-110km/h in 6.5secs is comparable to the pace of RS2000 Escorts and 2.0-litre Alfas.
The fuel tank holds 57 litres, allowing Sprint drivers to manage around 500km between refills. With a 9.5:1 compression ratio standard - maybe higher after the cylinder head has been 'skimmed' a couple of times - 98 Octane fuel with a valve-preserving additive is advised.
Original suspension settings were a little soft for Australian roads and severe bumps reverberate around the cabin and deliver a thump through the leather-bound steering wheel. Our featured Dolly has been fitted with urethane suspension bushes and upgraded shock absorbers which shrug off all but the most severe impacts.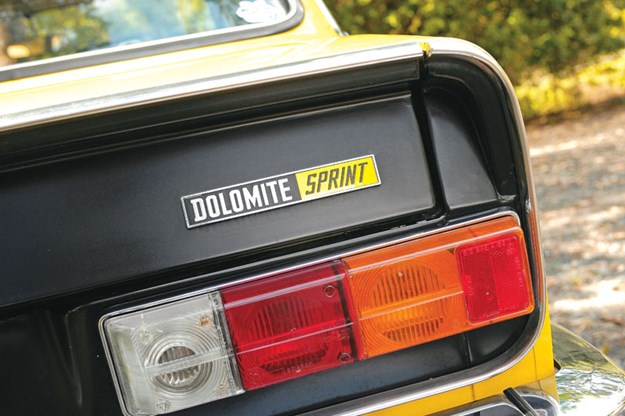 Front brakes are power-assisted discs with drums at the rear and they very hard to fault. Pedal pressures when the system is working properly are reasonably high and a soggy pedal indicates hydraulic problems.
The boot is typical Triumph - larger than expected but difficult to load due to a waist-height lip.
BUYER'S CHECKLIST 
Body & Chassis
Checking for poor-quality crash repairs is the first and most essential task. Panel gaps that don't match and doors that aren't flush indicate a car that's been heavily thumped. Bubbling around the windscreen and at the base of the front pillars betray rust that is serious and expensive to rectify. Body seams dribbling rust-coloured stains point to further damage being done to the structures beneath. Chassis rails and their sub-frame attachment points also need close inspection. Rust gets behind the brake master cylinder which can be costly and is best checked by peeling back the carpet under the dash. Door shells and skins are available new, but a complete set imported from the UK will cost $3000.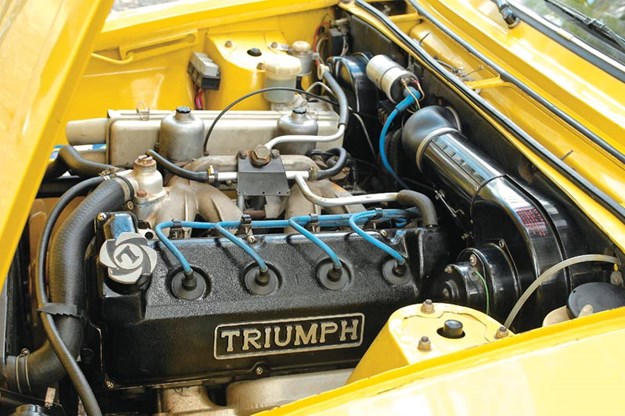 Engine & Transmission
Overheating is the major cause of Dolomite engine failure and easily avoided. The radiator filler sits below the level of the water pump and to eliminate air from the system coolant must be added through a brass plug in the thermostat housing. To ensure maximum efficiency, the pump must be correctly shimmed by a Triumph specialist. If the fan spins freely, its viscous coupling needs replacement. Remove the spark plug lead holders to check for oil escaping a porous cylinder head. Rattles from the top of the engine can indicate an ageing timing chain or camshaft wear. New unleaded-fuel cylinder heads are available but cost more than $2000. The gearbox was lifted from the larger 2500 PI sedan and is durable. Check the overdrive switch, which should respond within a second of being operated.
Suspension & Brakes
Sprints work their front suspension hard and noises are a sure sign of component wear. Full kits of ball joints and urethane bushes are available from Triumph specialists for less than $300, with adjustable Spax shock absorbers around $350 per pair. Vague steering needs swift rectification as the lower column joint can break with dire consequences. Worn rear suspension bushes allow the rear axle to shift laterally, so if the rear end feels 'loose' there's a problem. Brake master cylinders weep fluid - corrosion on the cylinder body a giveaway - and discs are often worn below acceptable thickness. Replacements are available and not expensive.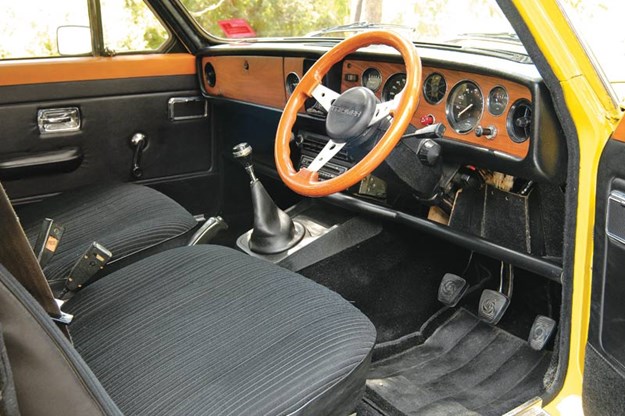 Interior & Electrical
Inexplicable cost-cutting is the only reason the Dolomites were built with a single exterior light loom and no fuse. Any problem can cause total light failure or even a fire. Having a fuse fitted by an auto electrician offers cheap insurance against catastrophe. Seat trim on local cars was black - beige offered with some colour schemes - and original cloth isn't available. Timber veneer on the dash and doors frequently crack and replacements need to be found second-hand.
SPECIFICATIONS 
Triumph Dolomite Sprint (1973-80)
NUMBER BUILT: 22,941
BODY: all-steel, unitary construction four-door sedan
ENGINE: 1998cc in-line four-cylinder with 16 valves, single overhead camshaft and twin sidedraft carburettors
POWER & TORQUE: 95kW @ 5700rpm/165Nm @ 4500rpm
PERFORMANCE: 0-100km/h - 9.4secs. 0-100km/h - 17.3secs
TRANSMISSION: four-speed manual with overdrive
SUSPENSION: Front - independent with wishbones, coil springs, telescopic shock absorbers and anti-roll bar. Rear - live axle with coil springs, trailing arms and anti-roll bar
BRAKES: disc front/drum rear, power assisted
TYRES: 175/70HR13 radial
CONTACT: Triumph Sports Owners Association - www.tsoa.asn.au
Unique Cars magazine Value Guides
Sell your car for free right here
Unique Cars magazine Value Guides
Sell your car for free right here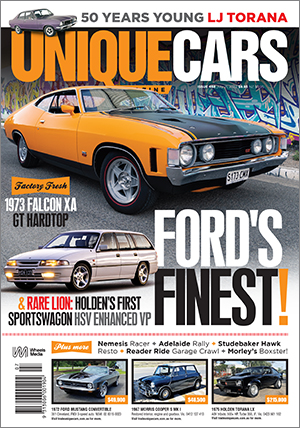 SUBSCRIBE TO UNIQUE CARS MAGAZINE
Get your monthly fix of news, reviews and stories on the greatest cars and minds in the automotive world.
Subscribe