Torana LC-LJ GTR and GTR XU-1 Buyers Guide
---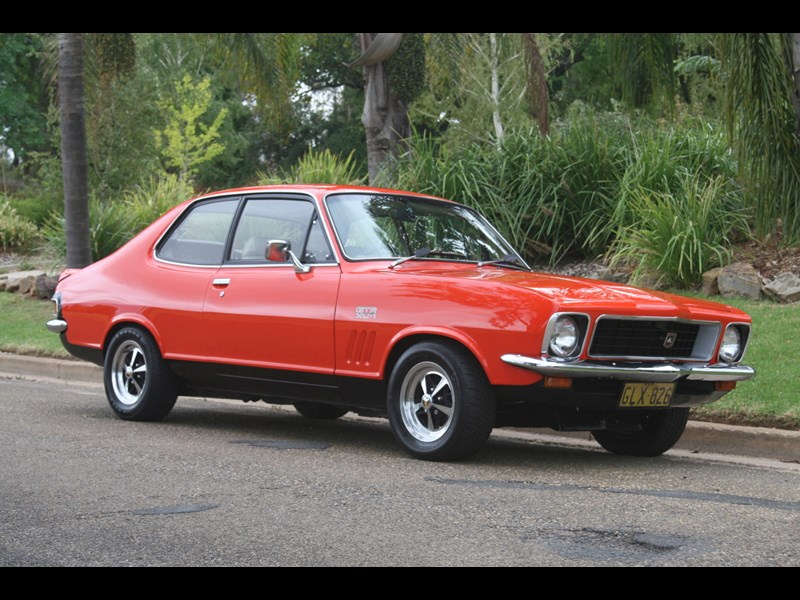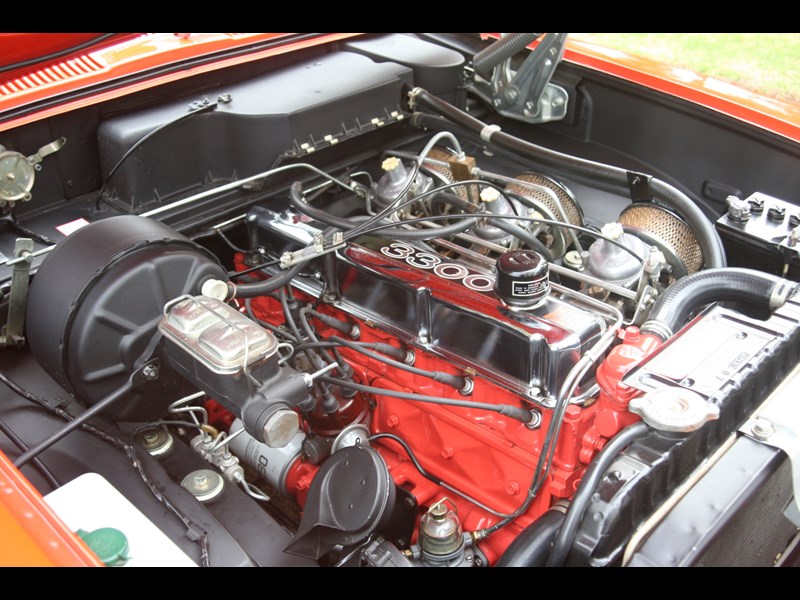 The iconic Holden Torana GTR and XU-1. Here's your complete buyers' guide to a classic Aussie muscle car.
Torana LC-LJ GTR and GTR XU-1
As muscle-car fever gripped the world, General Motors-Holden's went in search of ways to bring the small body/big performance ethos to Australian buyers. With its GTS 327 and 350 Monaros GM-H had created cars that were almost identical in size and performance to the US-built Chevrolet Camaro, however the V8 two-doors were priced beyond the reach of mainstream buyers. To capture the growing 'youth' market, Holden needed a smaller, cheaper performance package. Enter the LC Torana GTR.
The GTR was released in October 1969 as part of the six-cylinder Torana range. It used the 2.6-litre '161' engine normally found in base-model Holden Belmonts but with a modified cylinder head, camshaft, exhaust and dual-throat carburettor. At 93kW the '161S' was just 7kW more potent than the standard engine but then the Torana was 300kg lighter than a full-sized Holden. Four-speed manual transmission was mandatory, as were disc brakes, extra instruments, fluted front mudguards and an alloy-spoke steering wheel lifted from the GTS Monaro.
Carrying a price tag of $2778, the LC GTR was almost $400 more expensive than a 2.6-litre Torana SL but $100 less than the base-model Monaro. Sadly for the many younger drivers who would have traded their grandmas to put a GTR in the driveway, punitive insurance premiums were a major deterrent. But even greater temptation was already in the wings.
Holden Dealer Team maestro, Harry Firth was quick to recognize the six-cylinder Torana's potential as a race winner and had a competition version under development even before the first GTRs appeared in dealer showrooms.
Code-named XU-1, Holden's secret weapon had a 3.1-litre '186' engine with triple Stromberg carburettors, which developed 119kW. To enhance high-speed stability and distinguish the car from single-carburettor versions, a front air-dam and rear 'ducktail' spoiler were fitted.
The XU-1's first circuit appearance was as a Sports Sedan, more than three months before the official launch in August 1970. Six weeks later, a dozen XU-1s were lined up on the Bathurst 500 grid - ostensibly to win Class C but with the hope that fewer trips to the pits than Ford's much faster GTHOs would provide a first-up victory for the new car. But Bathurst is a place where fairytales rarely come true and the Torana was fortunate even to achieve its expected class victory.
Throughout 1971, despite denials of any motor sport involvement, Holden constantly enhanced the XU-1 with modifications that could have no other purpose except to make it a more viable competition car. The updated LC XU-1 announced in September 1971 was far more competent than the raw-boned original, but its rivals had also lifted their game. At Bathurst a freight train of GTHO Phase III Falcons finished ahead of Colin Bond's fourth-placed XU-1, which crossed the line only marginally ahead of Moffat's GTHO team mate, John John French.
.
Out in the forest the story was somewhat different, with Bond making the more nimble Escorts and Datsuns look silly as he took the first of four Australian Rally Championships won by XU-1 Toranas.
January 1972 brought the restyled LJ Torana range, including revised versions of the GTR and XU-1. Externally the changes were minimal but a chunky new grille and triple-element tail-lamps lent a 'mini-Camaro' look to the compact Holden.
More significant were the improvements made under the bonnet and under the car - a 3.3 litre engine, which in XU-1 specification delivered an extra 22kW, allied to revised spring rates and faster-ratio steering. Inside were improved seats and the steering wheel from the HQ Monaro.
By late 1972, any pretence that Holden wasn't interested in winning Bathurst had disappeared. August 1972 brought a run of 200 'updated' LJ XU-1s that became retrospectively known as 'Bathurst Specials' and gave Peter Brock his first Mt Panorama win. A year later came a further and final upgrade - the final batch of 150 'Bathurst' XU-1s, with revised cylinder heads and manifolds, a different fan, flywheel and rear axles.
During three years of production, approximately 3300 XU-1 Toranas were built, with quantities split almost evenly between LC and LJ versions. Specific figures for GTR production aren't available however the quantity of surviving cars suggests the numbers were low.
ON THE ROAD
Parked side-by-side, the differences between an LC and LJ XU-1 or GTR appear minimal. Drive them both for 100 kilometres over challenging roads and you won't believe they are even distant relatives.
The LC was a road-going racing car, rushed into production in time for the 1970 Bathurst 500. Even while the first cars were travelling down the production line, changes were being made and by late September a swag of modifications had already been made.
According to Ferdie D'Alberto, whose LJ XU-1 with its striking Lone Oranger paintjob was built in late 1971, the disconcerting ride that was symptomatic of early cars isn't nearly so apparent in his 'upgrade' version.
"When I was young I rode in the back of a GTR and kept getting bounced into the roof over bumps," D'Alberto said. "The ride in my car isn't anywhere near as harsh so what Holden did to the later LCs was certainly a big improvement."
That said, LJs offer even greater advances in the areas of passenger comfort and responsiveness with no loss of handling precision. Longer, re-rated springs and revised suspension geometry provided most of the answers, along with redesigned seats that reduced the 'trampoline' effect on rough roads. Nothing, however, was done about the upper seat belt mount, which allowed the belt sash to alternately strangle the wearer or fall off altogether.
High gearing - the XU-1's first gear is good for around 80km/h - affects off-the-mark acceleration but mid-range performance is outstanding. Road tests of early-build LCs recorded standing 400 metre times around 16 seconds but 80-110km/h in a blink over four seconds. With a range of available gear ratios, LJ XU-1 acceleration figures are less definitive: 1973 'Bathurst' cars with the 'low' 3.55:1 differential were reportedly capable of sub-15 second 400 metre times with the standard version recording 16 secs.
Handling on wet bitumen can be treacherous, with varying degrees of under and oversteer experienced within the space of a single corner. Throttle response is essential to controlling the car's attitude and this is often compromised if the carburettors are worn or wrongly jetted. The standard brakes are adequate at touring speeds but benefit from extra cooling and upgraded pads/linings if the car will be used for competition.
While carefully driven cars can achieve 15L/100km fuel economy, using an XU-1's performance to its maximum will empty the standard 77-litre tank in 300 kilometres.
BUYING
Numbers are of paramount importance to XU-1 Torana buyers - and not just the ones that appear after the dollar sign. During the 1970s when parts were freely available, 'cloned' XU-1s were common and it is essential to confirm a car's authenticity before handing over any money.
All the information a potential buyer needs can be found in Fiv Antoniou's comprehensive guide to the model or through contact with your state's Torana club. Genuine GTR bodies have an '82911' prefix but determining engine, colour and transmission combinations demands expert knowledge.
None of these sporty Toranas are easy to find and 'car wanted' advertisements are more common than cars for sale. At the top of the price pyramid are well preserved or fully-restored 'Bathurst' XU-1s, which can reach $25,000.
Those with actual race history are worth considerably more. LJ XU-1s suitable for everyday use are available for $12,000 with LCs slightly cheaper. LC GTRs are scarce but less popular than LJs. Prices for excellent examples of either model start at $8000.
CHECKLIST
Body
It is a rare XU-1 or GTR Torana that won't show signs of accident repairs. Check for poorly aligned bonnets and doors, kinked chassis rails, ripples in the boot floor and mismatched window glass. Rust attacks the lower rear quarters, the firewall and window surrounds. Cars that spent their early years as police pursuit vehicles may have holes in the front bumper where additional lights were mounted. Unique components such as LC grilles (up to $1200) and fluted front mudguards are scarce.
Engine & Transmission
'Red' Holden motors are durable and repairs are cheap. However, finding the correct block to replace a non-authentic engine will be difficult. Rear seals leak and noisy valve lifters are common. XU-1s can be difficult to start but once warm, engine response should be crisp and immediate. If not check that the carburettor dampers have oil and that the throttle linkages aren't worn. A good-quality fuel additive will help counteract detonation caused by LRP fuel. Early M20 (Opel) gearboxes are weak so check for worn synchromesh and chipped gear-teeth. Replacement with a more durable M21 or five-speed Japanese box is possible. The clutch action is normally heavy but it should not shudder or slip.
Suspension & Brakes
Race-style suspension settings including extreme application of negative camber will improve your Torana's handling and put you on first-name terms with the T-Mart man. Check the front tyres for excessive scrubbing and signs of contact with the mudguards. Disc brake rotors wear quickly when teamed with competition-compound brake pads so a thickness check is advisable. Rear drum brakes on rarely-used cars can seize.
Electrics & Interior
Worn or torn sections of seat trim are difficult to match and an untidy interior may warrant a complete retrim. Missing or damaged instruments will need to be sourced second-hand. Replacement glass, windscreen and door rubbers are available. The starter motor struggles against the XU-1's 10.3:1 compression and must be in good condition
are difficult to match and an untidy interior may warrant a complete retrim. Missing or damaged instruments will need to be sourced second-hand. Replacement glass, windscreen and door rubbers are available. The starter motor struggles against the XU-1's 10.3:1 compression and must be in good condition.
SPECIFICATIONS
Torana LC-LJ GTR and GTR XU-1 Buyers Guide
BODY: integrated body/chassis, two-door, four-seat coupe
ENGINE: 3.1 or 3.3-litre overhead valve six-cylinder with single (GTR) or triple Stromberg carburettors (XU-1)
POWER & TORQUE: 92kW @ 4800 rpm, 202Nm @ 2800 rpm (LC GTR) 142kW @ 5600rpm, 270Nm @ 4000 rpm (LJ XU-1)
PERFORMANCE: 0-100km/h 10.3 seconds (approx) Top speed 170km/h (LC GTR). 0-100km/h 8.2 seconds (approx) Top speed 210km/h (LJ XU-1)
TRANSMISSION: four-speed, all synchromesh manual
SUSPENSION: Front - independent with unequal length wishbones, coil springs, telescopic shock absorbers. Rear - live axle with coil springs, telescopic shock absorbers
BRAKES: disc front, drum rear power-assisted
WHEELS/TYRES: 13 x 5.5 steel or Globe Sprintmaster alloy BR70H/13 crossply or 175/70H/13 radial
2011 PRICE RANGE: $5000-30,000 (GTR) $15,000-100,000 (XU-1)
2016 price range (based on sales data)
LC GTR $8000-38,000; XU-1: $18,000-67,000
LJ GTR: $10,500-44,000; XU-1: $22,000-78,000
Note: these prices are for 3-1 condition cars. Concours vehicles may score a premium.
Unique Cars magazine Value Guides
Sell your car for free right here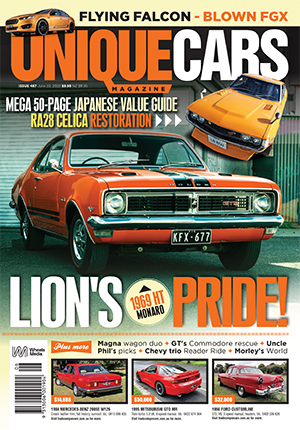 SUBSCRIBE TO UNIQUE CARS MAGAZINE
Get your monthly fix of news, reviews and stories on the greatest cars and minds in the automotive world.
Subscribe