Toyota Supra JZA80 (1993-99) Buyers guide
---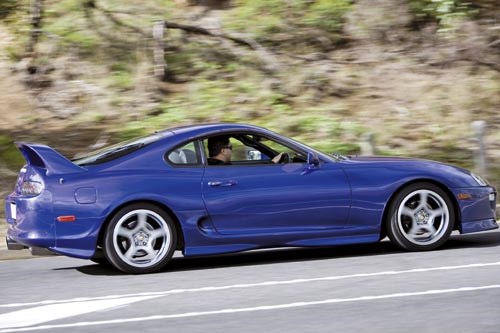 Buyer's guide - Toyota Supra JZA80 (1993-99)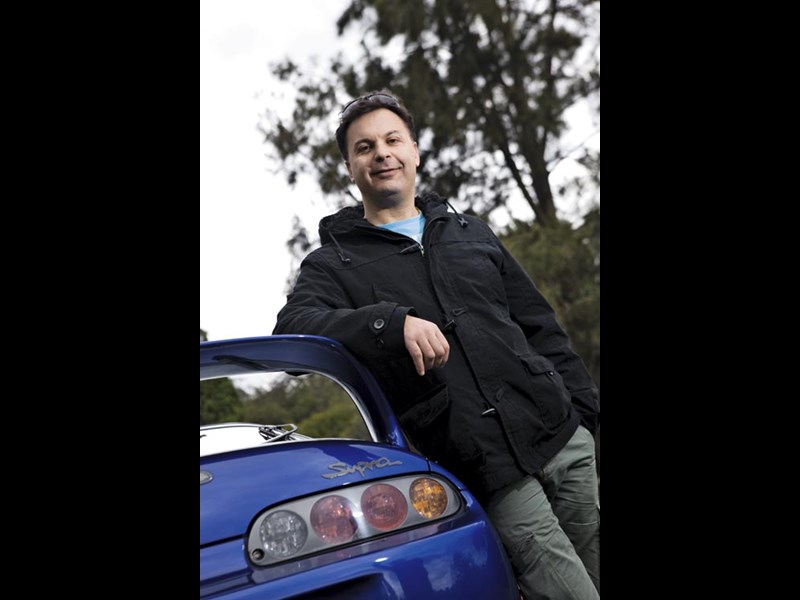 Buyer's guide - Toyota Supra JZA80 (1993-99)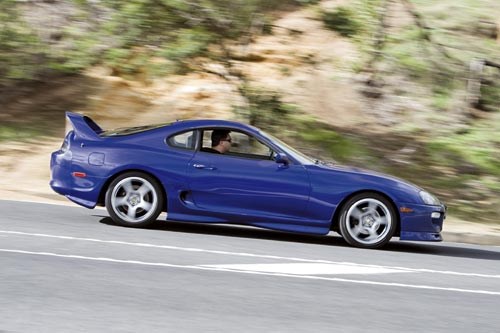 Buyer's guide - Toyota Supra JZA80 (1993-99)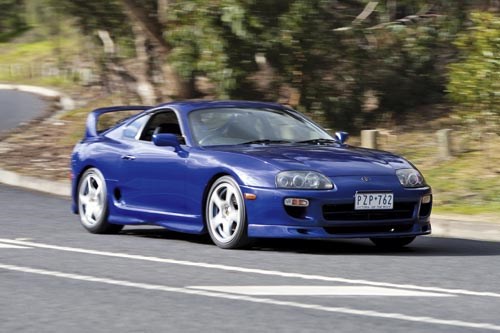 Buyer's guide - Toyota Supra JZA80 (1993-99)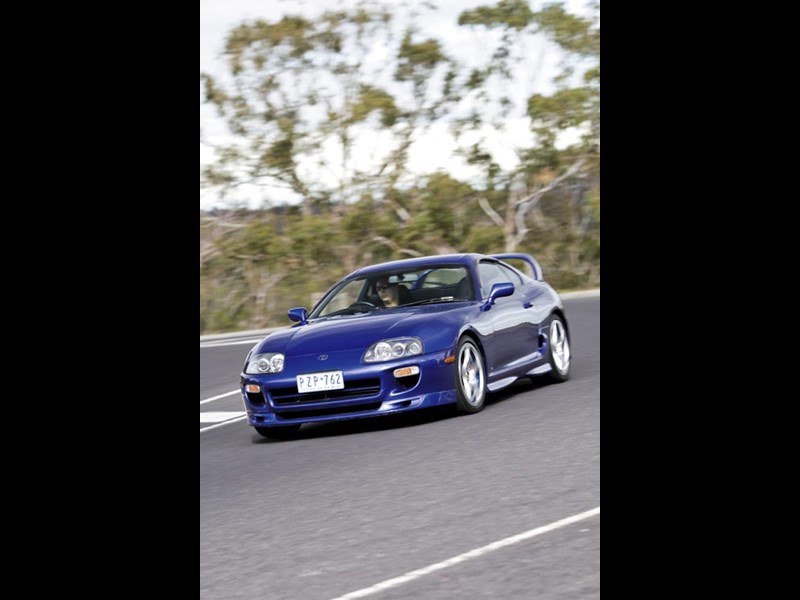 Buyer's guide - Toyota Supra JZA80 (1993-99)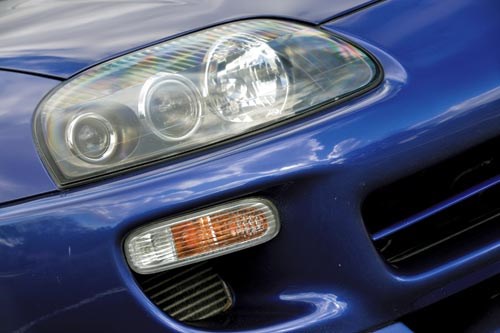 Buyer's guide - Toyota Supra JZA80 (1993-99)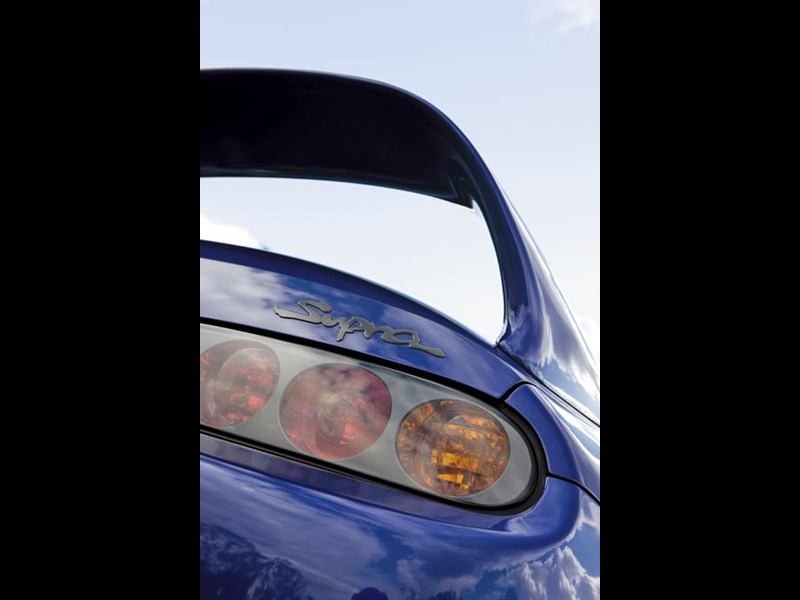 Buyer's guide - Toyota Supra JZA80 (1993-99)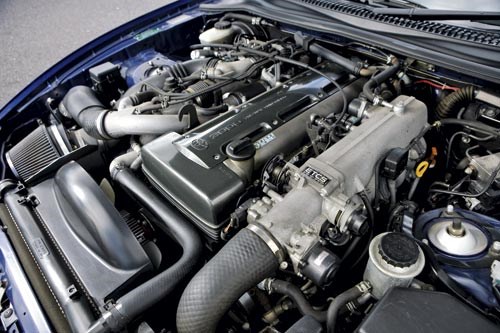 Buyer's guide - Toyota Supra JZA80 (1993-99)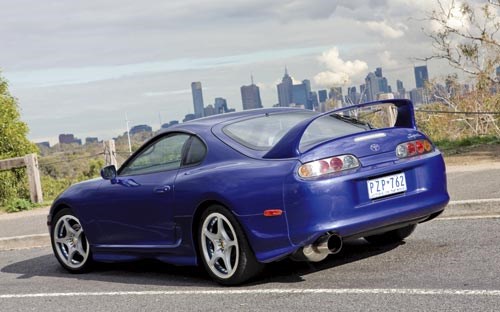 Buyer's guide - Toyota Supra JZA80 (1993-99)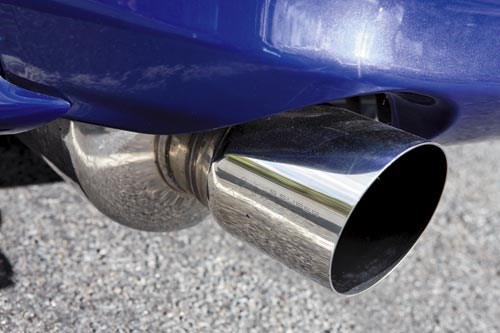 Buyer's guide - Toyota Supra JZA80 (1993-99)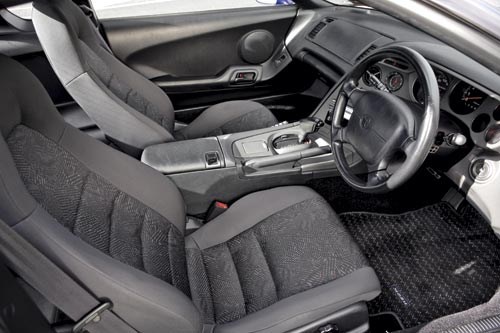 Buyer's guide - Toyota Supra JZA80 (1993-99)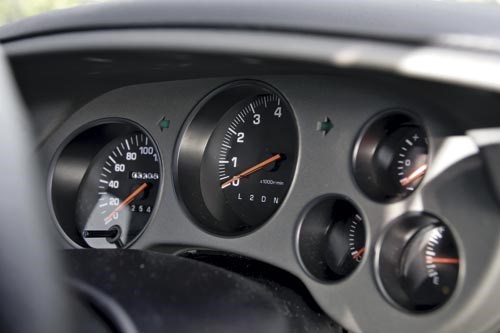 Buyer's guide - Toyota Supra JZA80 (1993-99)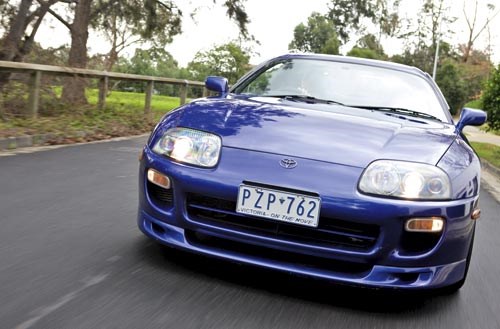 Buyer's guide - Toyota Supra JZA80 (1993-99)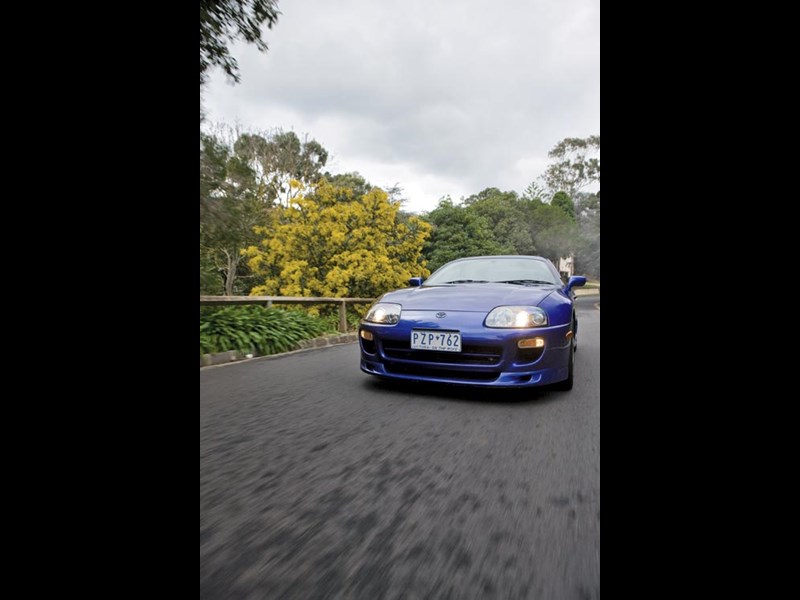 Buyer's guide - Toyota Supra JZA80 (1993-99)

Toyota's twin-turbo beast is a performance car bargain
Toyota Supra JZA80 (1993-99)
TURBO RUSH!
Having begun life as a steroidal Celica, Toyota's Supra transformed for 1986 into a sleek and sophisticated rival to Nissan's ZX range. The MA70 version came with a sweet 3.0-litre engine in turbo or normally-aspirated versions and the option of a removable 'targa' roof panel.
Even with 172kW from its single-turbo engine, the third-gen Supra tipped 1650kg and remained very much a boulevard cruiser.That situation existed until April 1993, when the fourth series of Supras took Toyota performance to a place the company had never previously explored. The RZ (twin turbo) and SZ (3.0-litre atmospheric) Supras sat on a wheelbase that was 55mm shorter than the previous model's but the car was 65mm wider overall and with a 1527mm rear track.
With extensive use of aluminium body panels and other weight-shedding innovations like hollow carpet fibres, the weight of a basic 3.0-litre version dipped to 1460kg. Turbo cars with automatic transmission were 1570kg, with the six-speed manual 10kg lighter. As with the preceding model, 4th Generation Supras offered an Aerotop version with removable roof panel.
The shape was chunky and purposeful with great aerodynamics that saw non-turbo versions achieve a 0.31 coefficient of drag and 12L/100km fuel consumption. However, the slippery shape was incompatible with high-speed stability, so turbo cars were characterised by a massive wing that extended to roof height. To minimize tyre-shredding, traction control was fitted to turbo-engined cars.
Both models were powered by Toyota's twin-cam, 24-valve 3.0-litre six. Non-turbo versions came with a five-speed manual gearbox while twin-turbos got the more rugged Getrag six-speed. Four-speed automatic was available with either engine.
Even in 168kW 'atmospheric' form, the SZ Supra was a serious performer. Local tests found that five-speed cars could slip below seven seconds for 0-100km/h – only a second slower than the turbo auto.
Two levels of trim were available but the GZ version with standard leather is extremely scarce. Most had Toyota's hard-wearing cloth and a comprehensive array of electrically-operated accessories. Sensibly, Toyota avoided saddling Supra owners with the confusing and troublesome electronic dash fitted to high-end versions of the Lexus Soarer.
Despite its amazing power-to-weight ratio, the TT Supra's competition record has been patchy. The cars with 2.1-litre engines were winners in Japanese Production Sports Car events but the RZ did little beyond that.
In search of greater efficiency and emission compliance, a VVTi (variable valve timing) version of the 2JZ engine was released for 1998 but sales in the crucial US market remained poor and a year later the Supra was withdrawn from North America. Japanese domestic production ended in 2002.
ON THE ROAD
On a 'horror for your dollar' basis, there is not much on this planet to match the adrenalin release of a twin-turbo Supra. With the boost gauge maxed and a long stretch of straight tarmac in front of you these cars will match the pace of European exotics, yet cost far less to buy and run.
New in the mid-1990s, a six-speed manual RZ would manage 5.1 seconds for the 0-100km/h sprint and 13.7 seconds over the standing 400 metres. While claimed power was a paltry 208kW, estimates of the standard engine's actual output ranged from 236-260kW.
Modified cars that are still legally registerable can be generating more than 400kW and drop the 0-400m time to better than 11 seconds.
Automatic versions like our photo-car are preferable for everyday use. The six-speed is heavier to use than typical Japanese transmissions and would become tiring after an hour's ploughing through peak-hour traffic.
Flipping the selector in an auto back a notch will spin the engine closer to its 4000rpm torque peak and deliver an immediate surge of acceleration. Care with the throttle in a car like this is paramount and a club 'track day' will be the safest environment in which to discover why turbo Supras managed to impress even seasoned and blasé racing drivers.
If the rush of performance doesn't remind you of some 'Top Gun' action sequences, the schizophrenic dash design certainly will. The section ahead and around the driver is packed with gauges and switches and blinking lights. Over on the passenger's side there's….nothing really.
The rear seat is really just a vinyl-clad parcel shelf with a backrest that folds to provide a decent-sized cargo platform. As a passenger area it's possibly suited to small children or one adult perched side-saddle.
The standard 17 inch wheels (235/45 at the front, 255/40 at the rear) are barely adequate for a car with this level of performance and many in the market have scored a substantial boost in wheel diameter and quality of rubber.
After-market 18 inch wheels seem the norm, but some owners opt for 20 inches at the rim; making an already harsh ride absolutely intolerable the moment you venture onto anything with more bumps than a billiard table.
Narrow and heavily-bolstered seats may not provide much long-trip comfort if you're on the bulky side, so spending at least 30 minutes of pre-purchase time in a car is essential.
The non-turbo 3.0-litre SZ version is down around 100kW on the heavy-breathing twin-turbo but is by no means a slouch. Performance will keep it well ahead of locally-built six-cylinder sedans and owners get to enjoy the same double-wishbone suspension, speed-sensing power steering and ABS-assisted brakes.
Fuel consumption from hard-driven twin-turbos can reach 30L/100km, but the worst a heavy-footed 'atmo' driver can probably do is 20L/100km, with normal driving draining the 70 litre tank at 12-14L/100km.
HOW MUCH?
A market flooded with Supras and fuelled by desperate vendors is generating some astonishing bargains. Top-quality or highly-modified turbo cars can top $30,000 but they are very much in the minority and can be difficult to move.
Non-turbo cars are currently being heavily promoted to younger owners as being 'P Plate friendly'; however insurance premiums for less-experienced drivers remain high. Twin-turbo versions also attract punitive excesses, so check around the specialty insurance market before agreeing to buy a Supra.
Pricing for SZ models in decent condition begins at under $10,000. Head to a repossession or internet auction site and prices can dive to half that amount, however your chances of buying a clapped out money-pit or rebuilt write-off become appreciably greater.
Turbos in the $15-20,000 bracket should come with at least some Australian service history and less than 100,000 verifiable kilometres. Unless you're very familiar with cars of the Supra's complexity and potential for mechanical expense, find a repairer who specialises in high-performance Japanese models and pay for a complete mechanical and chassis assessment. 
I OWN ONE!
Melbourne medical practitioner Chris has owned his 1997 model RZ since 1999 when he travelled to Japan with a local 'chaperone' and spent a month haunting auction houses until he found "the perfect Supra".
"I'd owned Porsches and a Nissan GTR and wanted a really exceptional car," he said. "This was the one that really stood out – painted in very scarce Sapphire Blue and with less than 10,000 kilometres on it."
Since then the car has averaged around 2000km annually and undergone some minor modifications including a change to fully-adjustable Tein suspension and 18 inch rims.
"It's a bit bland inside but I love the shape and in performance terms there is nothing else I can think of that delivers the same performance for the price," Chris said. "The other major thing in its favour is impeccable reliability."
The car is for sale. Call 0411 404307 for full details. 
CHECK POINTS
Body
Before even attempting to wriggle into a Supra cabin, take a really close look at the body. 'Cut and shut' repairs can be detected by checking the roof for paint inconsistency and underside for indications of recent welding. Toyota build quality ranks with the world's best, so inconsistent shut lines between bonnet and mudguards or doors that don't sit flush with adjacent panels indicate a car that is best ignored. It the car is fitted with the lift-out Targa roof panel, remove it to check the seals are in good shape. Press down on the hatch to check for worn buffer rubbers and water leaks. Hatch struts may need replacement but aren't expensive. Extreme body kits are prone to kerb and driveway damage so look for cracks, especially under the nose, and loose fitment.
Engine & Transmission
Finding a car with an original, unmodified engine might be a struggle and those that have been seriously modified are fraught with actual and potential problems. Standard turbocharger checks are essential – clean engine oil a must, as are invoices to confirm the car has been regularly serviced. Once the engine is warm and been given a few bursts towards maximum boost, listen for rattling from the turbocharger housings and check the mirrors for any hint of smoke from the massive tail-pipes. Look for heat damage to water hoses, cracks or repairs to the air-intake trunking. Camshaft drive belts should be changed every 80,000km to avoid expensive upper-engine damage. Noise and a clunky feel are typical of the turbo's six-speed transmission but clutch slip or shudder indicate a $1500-2000 repair bill is imminent.
Suspension & Brakes
A car that wanders or pulls may simply be a victim of incorrect tyre pressures or be suffering suspension damage. Look for inconsistent tyre wear patterns front and rear. Cars with larger than standard wheels place extreme pressure on suspensions so listen for rumbling wheel bearings and clunks caused clapped out bushes. Post-1994 cars have improved four-piston brake calipers but rotors can wear out after 40,000 kilometres. Make sure the ABS system is working.
Interior & Electrics
Ageing electrical components need to be thoroughly checked, so flicking every switch and making sure it responds will save money. Make sure that the heater and air-conditioner deliver noticeably warmer and colder air within a minute of being activated. Ensuring the ABS light comes on with the ignition and extinguishes after the engine starts is essential. Wear to leather seat bolsters is common and easily fixed but significant dash and console rattles denote a neglected car.
SPECIFICATIONS
Toyota Supra JZA80 (1993-99)
Body: integrated body/chassis, steel and alloy composite two-door coupe
Engine: 3.0-litre in-line six-cylinder with overhead camshafts and fuel injection. (turbocharging optional)
Power & Torque: 208kW @ 5600rpm, 427Nm @ 4000rpm (twin-turbo)
Performance: 0-100km/h 5.1 seconds, 0-400 metres 13.7 seconds (twin-turbo manual)
Transmission: five or six-speed manual, four-speed automatic
Suspension: Front: upper & lower wishbones with coil springs, telescopic dampers and anti-roll bar Rear: upper & lower wishbones with coil springs, telescopic dampers and anti-roll bar
Brakes: disc front, disc rear with ABS
Tyres: 235/17/45 ZR radial (front) 255/17/40 ZR radial (rear)
Price range: $5000-$24,000 (SZ) $9000-30,000 (RZ)
Contact: Supra clubs in some parts of Australia www.mkiv.com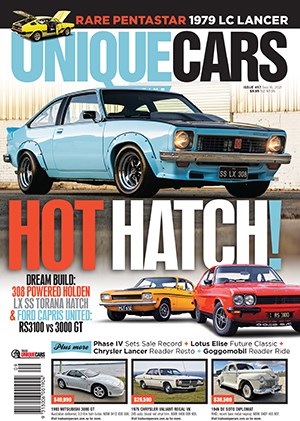 Subscribe to Unique Cars Magazine and save up to 42%
Australia's classic and muscle car bible. With stunning features, advice, market intelligence and hundreds of cars for sale.
Subscribe