Jaguar Mark VII-VIII-IX (1950-61): Buyers guide
---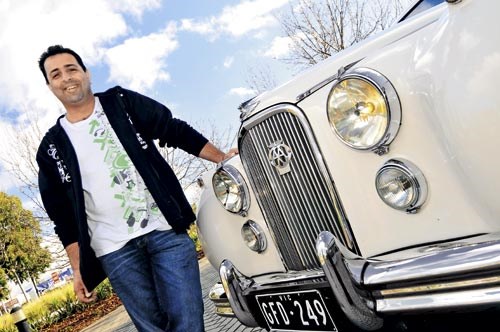 Buyers guide: Jaguar Mark VII-VIII-IX (1950-61)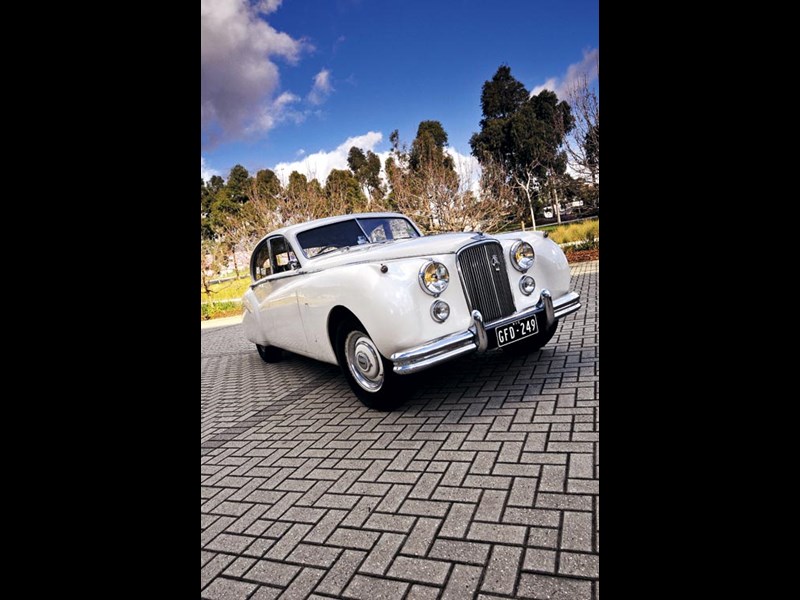 Buyers guide: Jaguar Mark VII-VIII-IX (1950-61)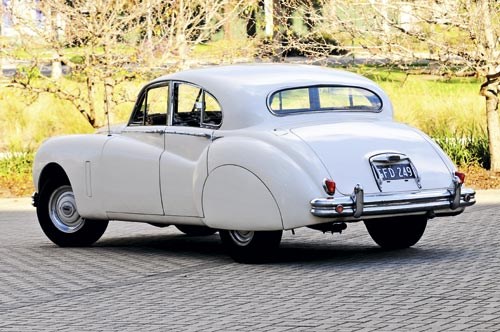 Buyers guide: Jaguar Mark VII-VIII-IX (1950-61)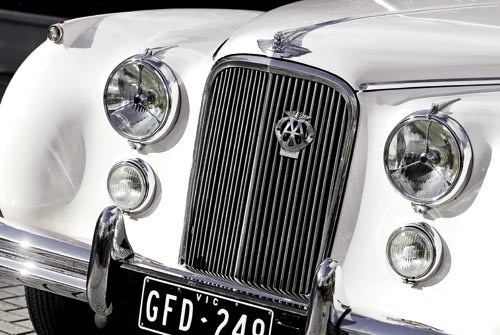 Buyers guide: Jaguar Mark VII-VIII-IX (1950-61)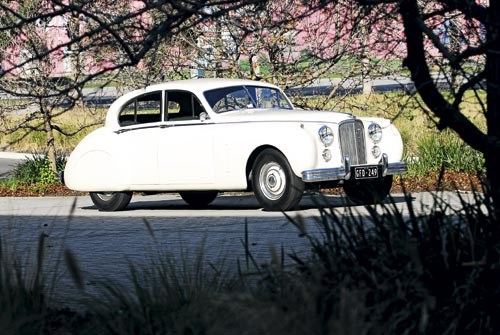 Buyers guide: Jaguar Mark VII-VIII-IX (1950-61)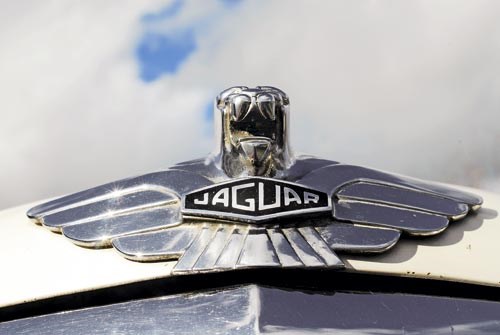 Buyers guide: Jaguar Mark VII-VIII-IX (1950-61)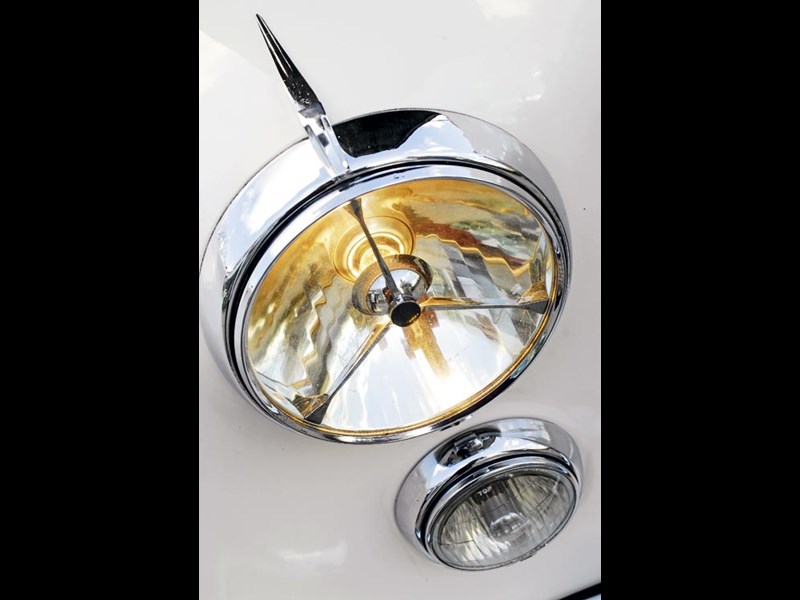 Buyers guide: Jaguar Mark VII-VIII-IX (1950-61)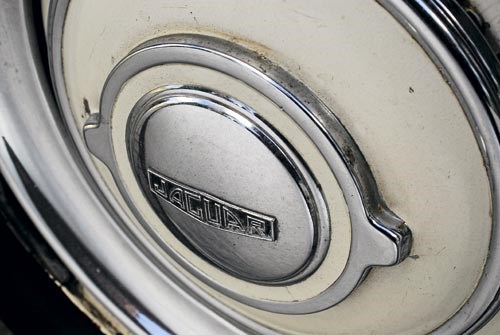 Buyers guide: Jaguar Mark VII-VIII-IX (1950-61)

Buyers guide: Jaguar Mark VII-VIII-IX (1950-61)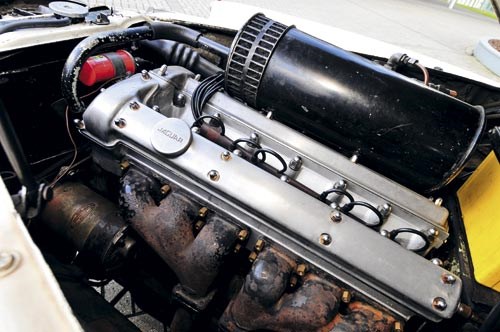 Buyers guide: Jaguar Mark VII-VIII-IX (1950-61)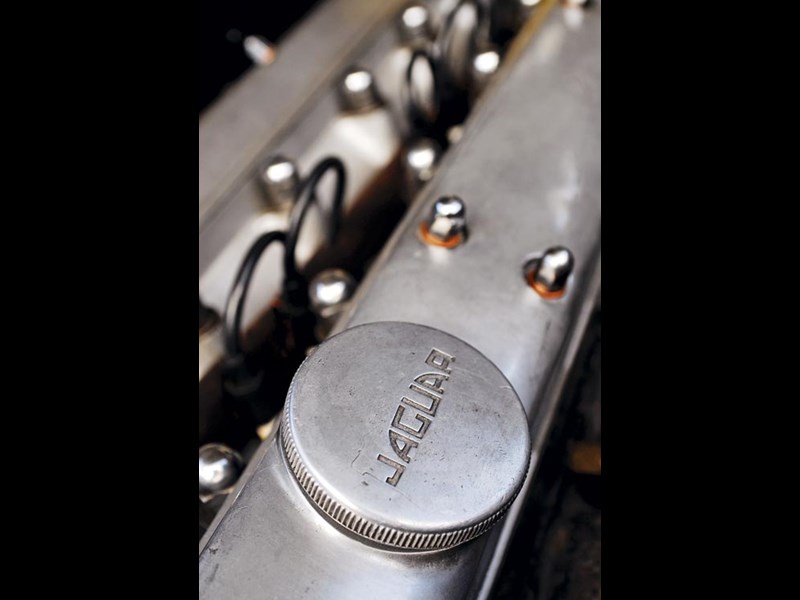 Buyers guide: Jaguar Mark VII-VIII-IX (1950-61)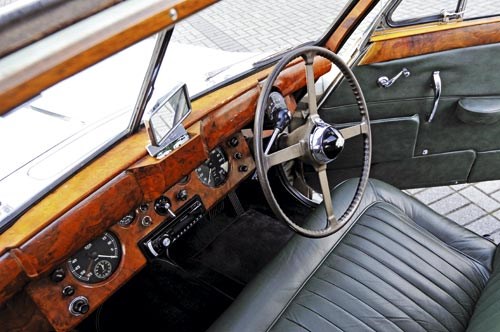 Buyers guide: Jaguar Mark VII-VIII-IX (1950-61)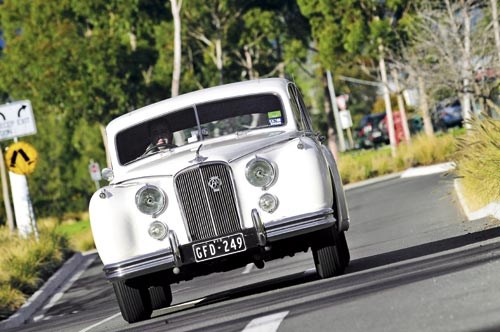 Buyers guide: Jaguar Mark VII-VIII-IX (1950-61)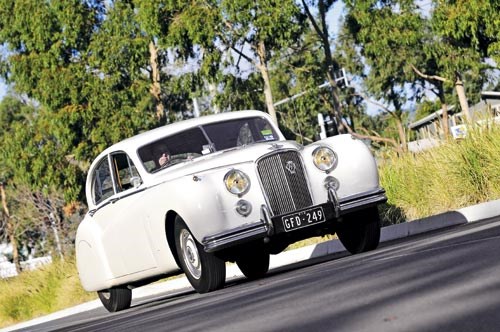 Buyers guide: Jaguar Mark VII-VIII-IX (1950-61)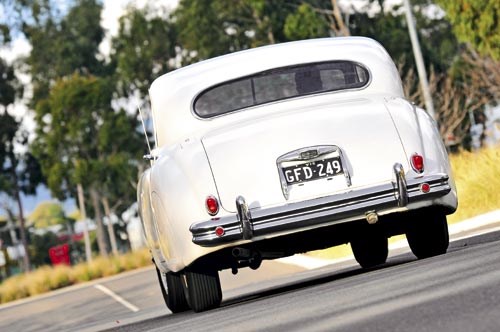 Buyers guide: Jaguar Mark VII-VIII-IX (1950-61)

These stylish Brits are popular at weddings but careful buying can snag you a sweet Sunday driver.
Jaguar Mark VII-VIII-IX (1950-61)
MAJESTIC CAT
Depending on who wrote your preferred history, the post-WWII British car industry was either a bombsite or a garden of untapped opportunity.
For William Lyons, boss of the newly-named Jaguar Cars, the latter view definitely prevailed. During wartime 'firewatch' duties at the company's Coventry factory, Lyons and a team of Britain's most gifted engineers had been working on the power-unit for a spacious and spectacular luxury model.
The fact that the twin-cam XK motor first saw production in the XK120 sports car was a happy, if unintended, coincidence. The 120 also earned valuable export income and enabled Lyons' team to rapidly advance the design that its engine was always intended to propel.
Release of the Mark VII Saloon came in October 1950 and world-wide response to the imposing yet sinuous shape was rapturous. Here was a car that would run all day at 130km/h, was packed with leather and finely polished timber and suspension so supple that the Queen Mother for years used one as personal transport. It was also far cheaper than vehicles of similar size and quality.
With the 120kW, 3.4-litre engine and a four-speed transmission, Mark VIIs would reach 155km/h. Despite their bulk, Sevens enjoyed considerable Touring Car race success and were nimble enough to win the 1956 Monte Carlo rally.
The Big Cat's first significant upgrade came in 1953 when telescopic shock absorbers replaced lever action units and three-speed automatic transmission became optional. Not only was the Borg-Warner DG auto sluggish and inefficient, it was also extraordinarily heavy, so the 1954 introduction of a VIIM version with 142kW came as no surprise.
Minor styling changes accompanied the 1956 release of the Mark VIII model. Most significant was replacement of the earlier cars' split windscreen with a single slab of glass, accompanied by 'duo' tone paint – the different shades separated by a chrome strip – and reshaped rear wheel spats.
A power boost to 156kW helped offset the Mark VIII's 64kg weight gain, however automatic versions were still slightly slower than earlier cars.
That problem was solved late in 1958 when Jaguar launched its last mainstream model to be built on a separate chassis.
The Mark IX brought a minor revolution in British luxury car design. It still resembled the Seven that had appeared eight years earlier but boasted a 3.8-litre engine with 164kW and 11 percent more torque, standard power steering and four-wheel disc brakes.
With the Mark IX, Jaguar had a car that maintained its imperious appearance but would top 175km/h and stop from that speed without wiping out the motorway shrubbery or giving the chauffeur a heart seizure.
The Nine only lasted three years but by the time it was replaced by the far less elegant Mark X more than 10,000 had been sold. 
ON THE ROAD
Peering through a slit-like windscreen along a corridor of bonnet, these Jaguars can feel fairly daunting. However, once drivers gain confidence in their ability to place the beast accurately the big Jaguar begins to shrink and feel far more modern than other large, 1950s cars. Parking demands practice as the boot lid slopes steeply and even adjacent traffic is difficult to spot through the tiny rear window.
The steering wheel is massive but cars with unassisted steering still demand some muscle when trying to manoeuvre at low speeds. Once registering a decent clip however, well-sorted cars will need surprisingly small wheel movements to generate a response.  Power-steered Mark IXs are easier for around-town running but deliver less road feel than earlier models.
Radial tyres and improved shock absorbers can make noticeable difference to response and grip but affect ride quality. Recent years have seen several manufacturers again making the correct 6.70 x 16 cross-ply tyres.
The manual gearlever looks ridiculously small for a car of this size but once the Moss gearbox is warm, the majority of changes should be quick and crunch-free. Reverse can take a couple of goes to engage and the first-second change may need a little throttle blip to ensure smooth engagement.
One owner who pushes his car well beyond everyday limits and (usually) retrieves it is historic racer John Tupicoff. During the past 10 years Brisbane-based driver has contested numerous sprint events and hillclimbs in his Mark VII.
"They're a big car but when set up properly quite easy and fun to drive," Tupicoff revealed. "For racing we use much stiffer suspension settings but that's about the only major difference. Even road cars can benefit from resetting the torsion bars to lower the front a little and a heavier sway bar."
Tupicoff recommends having the brake booster reconditioned or even replaced with a later PBR unit and ensuring the cooling system is absolutely clean and able to do its job properly.
"If the engine needs reconditioning it's worth having all the water passages cleaned to remove any scale, replacing the water pump and radiator core," he said. "There's space ahead of the radiator to fit a thermo-fan if owners are going to be doing heavy traffic driving but keep the standard fan as well to help clear heat from the engine bay."
For performance, the 3.8-litre Mark IX comes out marginally ahead of early 3.4-litre cars and the Mark VIII, however the majority are automatics and hampered by the sluggish shifting. A Mark VIIM with the four-speed 'box and a little engine work will be rapid and great fun – just ensure that the brakes are up to their task.
HOW MUCH?
Fully restoring one of these hefty and complex cars can be a six-figure exercise, so buying one that's had all of the expensive work properly done will save a considerable sum.  Unrestored cars do still exist, however they need to be intact and virtually rust-free to command more than a few thousand dollars.
Of the 47,000 Mark VII-IX model Jaguars made a surprising number have survived, especially in Australia. More than a few have served as wedding hire cars, so white is a popular colour but also a little less valuable than the two-tone combinations available to Mark VIII and IX buyers.
Fully-restored cars in excellent order have increased in value since the late 1990s but are still unlikely to cost more than $35,000. That contrasts with the money being paid in rust-ravaged Britain where similar vehicles command $50-60,000. The majority of local cars need some refurbishing and sell at around $20,000.
BUYER'S CHECKLIST
Body & Chassis
These complex cars incorporate a variety of rust traps and replacement panels in usable condition are very difficult to find. Areas to check for costly rust include the inner sills, front mudguards and valance, rear wheel-arches behind removable spats, fuel tanks and boot floor. Chromed parts are equally prone to decay and may be so pitted they can't be rechromed at all. Check the doorhandles, head and tail-light surrounds for deterioration and the grille for damage.
Engine & Transmission
The XK engine is inherently durable but demands regular maintenance and a cooling system that's working at maximum efficiency. Leave the car to idle for a few minutes after test driving, switch the engine off then restart to note any significant rise in temperature. Oil leaks from the cylinder head, camshaft and timing chain covers are common and not especially serious, however emulsified (milky) engine oil signifies serious issues including cylinder head or engine block cracks. Even when in good condition, the manual gearbox will be noisy in first gear and difficult to use until the oil is warm. Check that kick-down – and the Intermediate Hold switch on later automatic cars – both work and that reverse engages within a second or so of being selected.
Suspension & Brakes
The underside of these Jaguars must to be inspected by a Jaguar specialist to ensure major expense isn't imminent. The power steering used by Mark IX models was vague from new, but looseness, cracking noises when turning tightly and leaks demand investigation. Early lever-action shock absorbers can be rebuilt or the car converted to less-costly telescopics. Brake problems are best solved by a complete system overhaul costing around $2000. Piecemeal component reconditioning simply encourages the next item in the chain to fail. Look for leaks from the wheel cylinders and check that the pedal doesn't sink dramatically under sustained application.
Interior & Electrical
This section probably needs a page to itself, but significant issues include cracked or missing leather trim – or a retrim in something other than leather – rust-stained headlining, cracked or missing timberwork. Authentic interior refurbishing will cost close to $20,000. Make sure that the sunroof (where fitted) opens without crunching noises or pieces of rusted framing falling on your head. Lucas electrics have a reputation for appalling reliability and old Lucas electrics are guaranteed to produce sometimes perplexing problems.  Plan to spend considerable time checking that the brake lights don't come on in conjunction with the wipers and that all the gauges work properly. If paying top money for one of these cars, ensure that the original tool-kit – hidden behind a panel in the front passenger door – is in place and complete.
I OWN ONE
As co-owner of Melbourne-based Celebrity Cars, Tony Baratta has driven more than his share of Jaguars, but this is the first Mark VII added to Celebrity's fleet of wedding and special occasion vehicles.
"It's had just three owners and was with the last one for 28 years," Baratta said. "It had been sitting in a shed for some time so needed a fair bit of money spent to be presentable and reliable." 
Those expenses included a full leather retrim, reconditioned cylinder head with hardened valve seats to run 98 Octane PULP, a $2000 brake overhaul and $1800 on the transmission.
"It's a beautiful car to look at and drive," he said.  "The money that's been invested in it was worthwhile as everything was done properly. I really hate seeing these being used a hire cars with Ford motors running on LPG and nasty interiors. A Jaguar should look and run like a Jaguar."
If you'd like a tour to some Victorian wineries or the altar in one of Tony's fleet, call him on 0438 544351.
SPECIFICATIONS:
Jaguar Mark VII-VIII-IX (1950 - 1961)
Number built: 30,200 (Mk VII) 6332 (Mk VIII) 10,005 (Mk IX)
Body: all-steel, separate body/chassis four-door sedan
Engine: 3.4 and 3.8-litre in-line six-cylinder engine with double overhead camshafts and twin side-draft carburettors
Power & Torque: 141kW @ 5500rpm, 275Nm @ 3000rpm (3.4-litre Mark VIIM)
Performance: 0-96km/h   12.8 seconds   0-400 metres 18.2 seconds (Mark VIIM)
Transmission: four-speed manual (overdrive optional) or three-speed automatic
Suspension: Front: independent with torsion bars and coil springs with lever action or telescopic shock absorbers and anti-roll bar Rear: live axle with semi-elliptic springs, lever action or telescopic shock absorbers
Brakes: four wheel drum or four-wheel disc (Mark IX) with power assistance
Tyres: 6.70R16 cross-ply
Price range: $2500-45,000
Contact: Jaguar Clubs in all States, ACT and NT   www.jaguar.org.au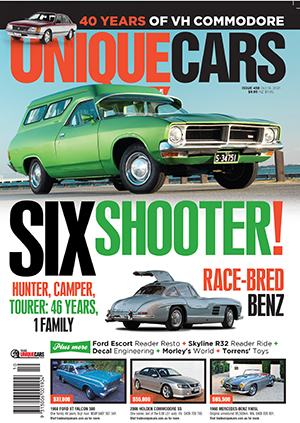 Subscribe to Unique Cars Magazine and save up to 42%
Australia's classic and muscle car bible. With stunning features, advice, market intelligence and hundreds of cars for sale.
Subscribe