HSV Commodore VR GTS (1991-96): Buyer's Guide
---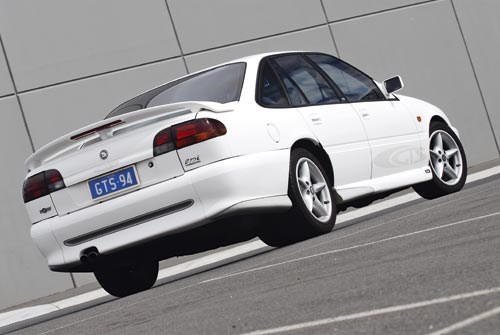 HSV VR GTS Buyers Guide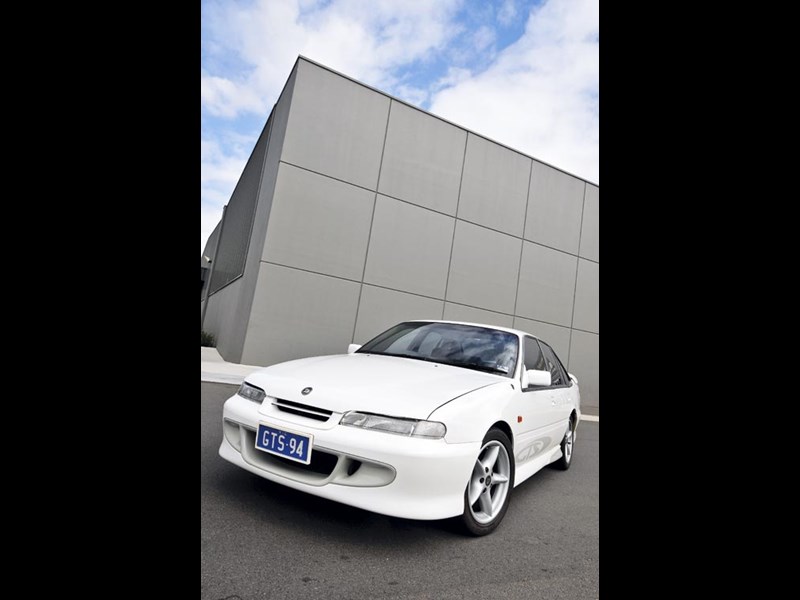 HSV VR GTS Buyers Guide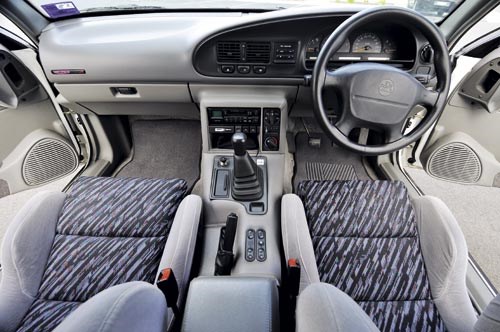 HSV VR GTS Buyers Guide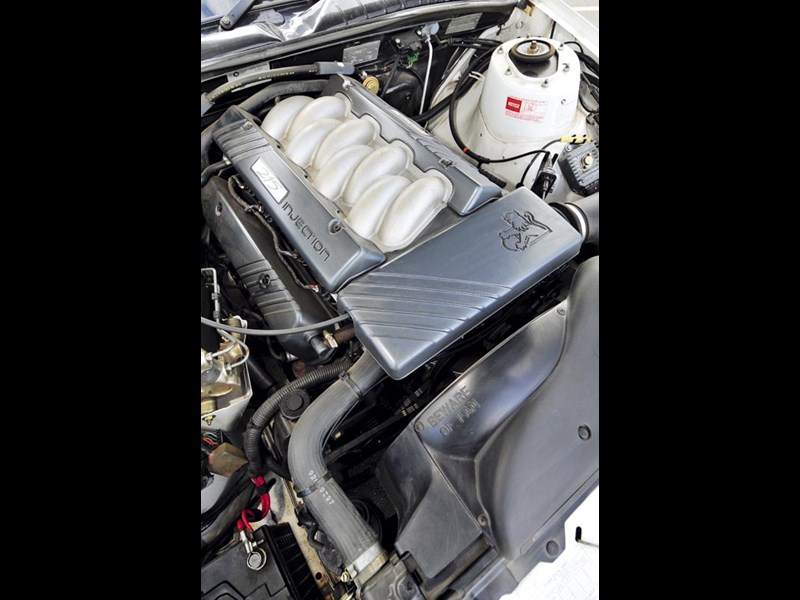 HSV VR GTS Buyers Guide

Bargain Blaster: HSV's GTS series has yet to make it onto the radar of most collectors, and offers good value because of that.
HSV Commodore VR GTS
Rekindling a model name with serious iconic overtones can be hazardous, especially when the car chosen for the task doesn't live up to expectations created by its forebears.
Launched as the early 1990s recession was relaxing its grip on buyer confidence, the HSV GTS was more a family car with attitude than a reincarnated Monaro. However, with shelves fully of components left over from the slow-selling VN Group A, HSV was just happy to find an outlet for all of those spare bumpers – even if they did need some modification to fit the VP body.
The engine was similar in specification to the VN5000 unit with the same 200kW and mandatory four-speed GM700 automatic transmission.
It also incorporated the independent rear end that represented Holden's most significant improvement in chassis design since Radial Tuned Suspension.
Using basically Berlina trim, the GTS made little pretence to luxury but did deliver a set of comfy-looking sports seats, climate-control air-conditioning, cruise control and a trip computer.
With a base price of $54,000, HSV wasn't getting carried away with build numbers either and just 130 of the VP GTS were made.
April 1994 brought an improved and more market-focused VR GTS. With HSV having sustained some media grumbles for offering the VP in auto-only form, the first VR GTS out of the blocks was a six-speed manual. Six months later an automatic version was added and remained available until March 1995.
The VR's V8 was the first 5.7 litre fitted to a Holden in almost 20 years and output matched the 215kW delivered by VN Group As. Importantly, this was not an imported engine but a 'stroker' version of the 5.0-litre with a specially-made crankshaft and host of locally-made innards.
Externally, the car was still a fairly drab device with a choice of green, red or white paintwork, a somewhat contrived body kit and large GTS decals covering the lower halves of the front doors.
Trim was Glencoe patterned cloth, with space for five occupants but comfortable seating for only four. The centre section of the rear seat came with a lap belt but also a chunky armrest that made for backbreaking travel if you were the fifth passenger.
Those 15 additional kilowatts gave the VR a marginal edge in standing-start performance over the VP – the later car about half a second quicker to 100km/h. Helping get the power to the bitumen was an Australian-developed Hydratrak limited slip differential.
The VS that arrived in April 1995 was characterised by tri-spoke Aero wheels, a new air-intake and rear spoiler with high-mount stop-lamp. Mechanically, the VS was largely unchanged except for electronic rear suspension leveling and further improvement to the brakes.
A quirky upgrade aimed at deterring theft or 'rebirthing' of crashed HSVs was an embedded holograph that rendered the dash ID badge useless if removed. Leather trim finally became a GTS option, as did a 10-stack CD player and glass sunroof.

ON THE ROAD
Ride quality underlines the benefits of IRS, even with a full load of passengers. Tests of the VP found the car to be far more stable and predictable on loose surfaces than its live-axle precursors. Understeer is dominant but well masked by power steering with just 2.6 turns lock-to-lock. The thick-rimmed, three-spoke steering wheel that carried through to the VR is great to use but doesn't incorporate an air-bag. Choose a VS if you want one of those.
VP performance, including a 7.2 second time for 0-100km/h, was excellent for a porky family sedan but a disappointment to those hoping for a real revival of the Oz-built muscle car. About the only concession made by the VP to boy-racerism were in-yer-face GTS graphics, but with the VR came a world-class sports sedan.
As Wheels magazine trumpeted on the cover of its April 1994 issue, this 243km/h brute was, in top speed terms at least, 'The Fastest Ever' Australian production car.
The rumble of the 5.7-litre engine with its specially-developed dual exhausts is muted but packed with menace. Power doesn't come close to the 300-plus kilowatts delivered by recent HSV products but there is no lack of urgency once the pedal is pressed.
With six beautifully-spaced ratios, the car will hit 70km/h without an upshift and exceed 100km/h in second gear, while 80-110km/h in fourth takes 4.5 seconds, or 7.6 in fifth. Top-gear at 100km/h sees the tacho flickering around the 1600rpm mark, so fuel consumption when treating the car gently gets close to 10L/100km.
The 17-inch wheels carry 235 section tyres and informed owners warn against going wider as larger rubber will impede the camber-altering ability of the independent rear end.
Post-VP cars deliver improved traction via the ingenious Hydratrak limited slip differential, which uses viscous coupling technology to minimize wheelspin. On wet roads or when pushed hard out of tight bends, even Hydratrak cars will break an inner wheel loose, but the transition is predictable and easily controlled.
Brake performance is exceptional for a car weighing 1600kg; massive 328mm discs at the front combine with standard ABS for 100-0km/h stopping in around 42 metres. Cars with the 215kW motor came with brakes that had been redesigned to minimize rotor cracking.
HOW MUCH?
Just before you flip through to the small ads hoping to find a 1970s Monaro at sensible money, please take a minute to read this bit. In a decade or so, providing you're smart enough to buy a GTS before prices inevitably surge, you might consider it time well spent.
For starters, these HSVs are among the rarest Holdens ever built. No one can estimate how many of each model that have survived crashes and thefts, but it's a fair bet that numbers will continue to diminish for some time to come. They are also waaaay better cars to drive than any four-door Monaro, use less fuel and are, at present, insanely cheap.
Our featured VR model is being offered for sale at $40,000 but it's an exceptional example that's averaged just 2200km annually since new. Cars that have seen more frequent use and showing 150,000-180,000km are available at $15,000-20,000, with 'builders' in the $8000-10,000 range.
Reviving a low-priced example isn't a dumb strategy, given that most parts are still available and affordable. In 10 years time, that won't be the case and owners are already finding that items unique to these models have become difficult to source.
These are easy cars to 'clone', so checking authenticity is essential. Joining an HSV club prior to purchase and drawing on the expertise of other owners is strongly recommended.
BUYER CHECKLIST
Body & Chassis
Normal rust cautions apply but it's rare to see a GTS that's been so badly treated that it's coming apart. To check for impending problems, examine wheel arches and window surrounds for bubbling, lower door skins and the boot lid (especially rear spoiler mounting points). Panels are easily obtained but damage to the body plastics could cause major headaches. Genuine replacements aren't available and used bumpers can cost up to $1000, with replicas available at $415 each. Poorly-repaired crash damage manifests in bumper and bonnet fit, with cars that have been significantly bent also showing significant door gap variations.

Engine & Transmission
Either of the available V8s will, with regular maintenance, offer around 300,000km of trouble free use. Oil leaks plague the 5.0-litre engine but only a rear main bearing seal that is spraying lubricant onto the exhaust will warrant major expense. Chattering from the valve lifters is symptomatic of dirty oil. These engines can drop fan belts, leading to overheating, so carrying a spare in the boot is worthwhile. Clutch life varies according to use but 80,000km should be possible. The six-speed isn't especially quiet and light whining at constant speed is normal. Auto transmissions should shift smoothly. Vibration is likely due to worn engine or transmission mounts. If the Hydratrak diff clunks like a Detroit Locker, there are problems within.

Suspension & Brakes
The GTS chassis requires little more than routine maintenance, but neglected cars can feel loose and will transmit plenty of road shock and noise to the cabin. Worn or perished bushes – even on low-kilometre cars – are major culprits but easily replaced. If the rear tyres are worn significantly on their inner edges, the IRS needs examination by a specialist. Ensure that wheel rims aren't gutter scuffed as second-hand replacements cost upwards of $250 each.

Interior & Electrics
Most interior parts are shared with other Commodore models but worn or stained trim will seriously devalue a car as replacement fabric is difficult to source. Optional leather needs to be supple and crack free or a $4000 retrim bill awaits. Authentic steering wheels are scarce and expensive – a VR version was offered at $770 – so negotiate a bit harder on cars with sun damage to the wheel rim. Check that electric windows move freely and without creaking and that the cruise control works. 
SPECIFICATIONS
HSV Commodore GTS (1991-96)
Number built: 130 (VP), 277 (VR), 375 (VS)
Body: all-steel, unitary construction, four-door sedan
Engine: 5.0 or 5.7-litre V8 with overhead valves and fuel injection
Power/Torque: 215kW @ 4800rpm/475Nm @ 3600rpm (5.7-litre)
Performance: 0-100km/h – 6.6 seconds. 0-400m –14.8sec (5.7-litre manual)
Transmission: 4-speed auto; 6-speed manual
Suspension: Front – independent with struts, coil springs and anti-roll bar. Rear – independent with semi-trailing arms, coil springs, telescopic shock absorbers and anti-roll bar
Brakes: disc front, disc rear, power assisted with ABS
Tyres: 235/45ZR17 radial
Price range: $5000-50,000
Contact: HSV clubs throughout Australia.   
Website: hsv.com.au/clubs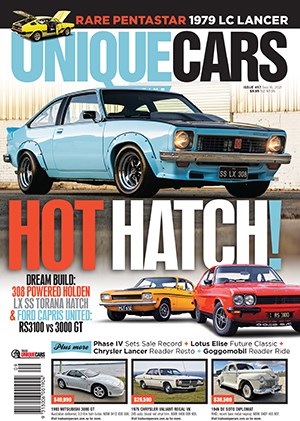 Subscribe to Unique Cars Magazine and save up to 42%
Australia's classic and muscle car bible. With stunning features, advice, market intelligence and hundreds of cars for sale.
Subscribe