Sunbeam Alpine: Buyers' Guide
---
While not as common as some of their contemporaries, Sunbeam's Alpine sports cars can be among the least expensive to purchase and maintain.
Sunbeam Alpine
SENSIBLE AND SPORTY
American servicemen returning from Europe with T Series MGs inadvertently generated demand for British sports cars in their homeland and sparked an unseemly rush to produce products which would appeal to the world's biggest automotive market.
Jaguar was first out of the blocks with its luscious XK120, closely followed by the Austin-Healey 100, Triumph's TR2 and the ultra-successful MGA.
Left floundering in the wake of this activity was the Rootes Group; owners of Hillman, Singer and Sunbeam. Its only weapon in the battle for export dollars was the Talbot-based Alpine Roadster but it was overweight and commercially unsuccessful. Conscious that their range lacked a sports car with export potential, Billy and Reggie Rootes issued instructions which would lead to the introduction in 1959 of the Alpine Series 1.
This car was vastly different in design and market appeal from its mid-fifties namesake. Replacing the bulky, saloon-based bodywork of the original Alpine was a Thunderbird-inspired shape with fins and a broad, shallow air-intake. Economies of scale dictated that the car - designed by former Studebaker stylist Ken Howes - would be based on a Hillman Husky floorpan and share numerous mechanical components with the 1.5-litre Sunbeam Rapier coupe.
Its finned profile was not the Alpine's only concession to North American sensibilities. While the MGA and Triumph TR3 gave occupant comfort a low priority, Alpines came with windup windows, broad and well-padded seats and a heater. In 1963, automatic transmission joined the Alpine options list.
Despite a 30kg weight penalty, the 1.5-litre Alpine matched MG's 1.6-litre `A' in straight-line speed and wasn't far off the pace set by Triumph's more potent TR3A. The car was launched in the French resort city of Cannes on July 2, 1959 - just in time for release into the 1960 North American model year.
The Series 3 which appeared in 1963 brought revised styling with trimmed fins and even greater luxury.. For the first time, a GT version with carpet, timber-veneer dash trim and a hardtop as standard was offered but performance suffered as Rootes opted for a detuned 56kW engine - apparently in pursuit of noise reduction and improved fuel economy. Fewer than 6000 Series 3 GTs and Roadsters were sold before being replaced by the Series IV with its dual-throat carburettor and 65kW.
To remain competitive against the MGB and Triumph TR4, Sunbeam's underpowered roadster needed a serious performance boost. Rootes had no viable answer until its US West Coast distributor asked the Carroll Shelby organisation to squeeze a small-block Ford engine into an Alpine.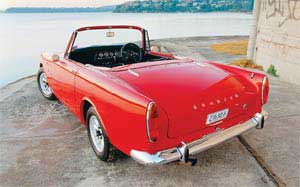 Following approval from the often-irascible Billy Rootes - who reportedly contacted Henry Ford II personally to arrange an engine supply contract - the Sunbeam Tiger was released onto the North American market in late 1964. Despite costing almost the same as a 5.3-litre Corvette, more than 7000 Tigers were sold during an abbreviated production life. In June 1967 and with Rootes under Chrysler ownership, the Ford-powered Tiger was dumped from the range.
Six months later Alpine production was brought to an equally-abrupt end. The Series V with its 1.725-litre engine had averaged 8,000 sales per annum but that wasn't enough to keep Chrysler's bean-counters at bay.
ON THE ROAD
Despite the connotations of its nameplate, the Alpine is not a car for shuffling Porsches out of the fast lane on European mountain passes. In its most powerful Mark V form the Alpine delivers just 69kW and takes 19 seconds to cover a standing 400 metres. Top speed of overdrive-equipped Series IV/V cars is a whisker over 160km/h while earlier ones run out of puff at around 150.
Where Alpines of any age and model excel is in their versatility and comfort. The seats are well-shaped, there's plenty of legroom, carpeted floors and lots of information available via comprehensive instrumentation.
Choose a car with the optional hardtop - early ones with their curved rear window look best - wind up the windows, crank up the heater and you can enjoy all the comforts of a sedan. Which is really why the Alpine was created in the first place.
Tested in mid-1964 by the long-gone 'Australian Motor Sports', a Series IV surprised the magazine's test driver with "handling, ride and comfort (which) allow the driver to spend hours at the wheel". High on the list of plus points were the car's fully-adjustable seats, steering column and pedals which ensured the driving position could be tailored to fit "like a second skin".
Understeer was the predominant handling trait but soft suspension - a fault of earlier cars - seemed to have been cured by revised spring and damper rates. Reaction to rough surfaces was described as "skittish".
Optimal weight distribution coupled to an abundance of torque help the Tiger overcome most of the Alpine's handling deficiencies. Bolting a 4.2 or 4.7-litre V8 into the space previously occupied by a 1.6-litre 'four' might seem a receipe for disaster however the design team led by famed Cobra racer Ken Miles did their job extraordinarily well.
The V8 cars' performance is adequate but hardly electrifying; 0-100km/h in a 4.2-litre Mark 1 taking around 8.5 seconds. Tuned to achieve maximum performance and carrying aerodynamic bodywork, the Tiger Le Mans would reach 260km/h but overheating and oil surge ensured Sunbeam's final appearance at the world's most famous sports car race ended before half distance.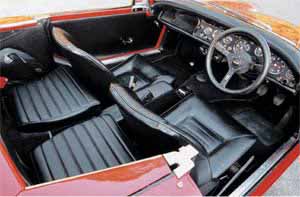 Trevor Newman has owned our featured Alpine for two years and nominates reliability among the car's most endearing qualities.
"The car is a late Series 4 with the all-synchro gearbox with leather trim instead of the standard vinyl," Newman says. "It was restored about 12 years ago and hasn't been used much, but since I've had it it's been 100 percent reliable. During that time the only thing I've had to replace has been a leaking heater hose."
BUYING
Alpines aren't the most commonplace sports cars on the Australian market yet they remain among the least-expensive. Sound cars needing minimal mechanical work, a retrim and paint are available for less than $8000 while those in very good order can be found between $12,000 and $14,000. A complete car needing full restoration was advertised on a Sunbeam Club website for $2500.
Condition matters more twhen determining Alpine values than the car's build-date. That said; late-series 4 and 5 cars with their uprated transmission and superior performance will command slightly more money than an early model in similar condition. Overdrive transmission and a factory hardtop between them add $1500 to the value of a good-quality car.
The Tiger was never sold in Australia and any which appear on our market will be private imports. Tiger 260s - identified by their single-bar grille - should cost between $35,000 and $45,000. Mark 2s with 4.7-litres and a honeycomb grille are very scarce and overseas markets value these cars 20-30% above the earlier version.
Cars built left-hand drive are generally preferable to those who spent their early years on salt-caked British roads but check any Tiger you're considering for rust and authenticity.
BUYER CHECKLIST
Body
Water and neglect are a sports car's greatest foes and many Alpines suffer the effects of both. Values during the 1980s were so low that owners dumped rusty cars rather than replace rotten sills, floors and chassis members. Those which survived into the 1990s frequently did so courtesy of cheap repairs which are now due for proper and costly rectification. Jacking each side of the car and checking for changes in the door gaps is a quick way to uncover serious structural faults. If the framework seems sound, check under the carpets for dampness or evidence of rust, the sills, wheelarch lips and rear quarters for body filler.
Engine
Alpine powerplants are tough, reliable and easily maintained or rebuilt. Virtually everything needed to totally recondition the engine and its ancillaries is available locally or through overseas specialists such as the US-based Sunbeam Specialities Inc. Oil leaks afflict all the four-cylinder engines and their aluminium cylinder heads corrode unless inhibitor has been added to the coolant. Tiger V8s suffer from high underbonnet temperatures; check for fuel leaks and perished hoses.
Transmission
The basic four-speed manual or three-speed automatic are common to other Rootes Group cars and relatively simple to recondition or replace. Overdrive units can be rendered inoperative by infrequent use and accumulated roadgrime. Transmissions which whine excessively or jump out of gear are due for a rebuild. Driveline vibration is a sign that the driveshaft is twisted.
Chassis and Suspension
Early Alpines use kingpin front suspension which requires frequent greasing and lever-arm shock absorbers which are almost impossible to replace and must be reconditioned. Late-series cars have telescopic shocks and ball-joints. Metalastik compound suspension bushes separate due to age and oil contamination but replacements are available. Edge-worn tyres and front-end rattles signify that work in this area is overdue. Replacement disc rotors for Series 1-2 cars are no longer available.
Electrics
Age and poor maintenance are major causes of electrical faults in Alpines. Unless the car has undergone a total restoration, most of the wiring will be close to 40 years old. Check that all gauges work properly as these are expensive to repair. Be particularly wary of electrical problems in Tigers as these cars with their confined underbonnet workspace are diabolical to work on.
Interior Trim
Reproduction door trims, carpet sets, door hardware and rubbers are available. Specialist trimmers can pad and recover seats to original pattern. GT models have timber veneer dash which cab be difficult to replace if badly warped. Replacement hoods and tonneau covers cost $250-450.
Unique Cars magazine Value Guides
Sell your car for free right here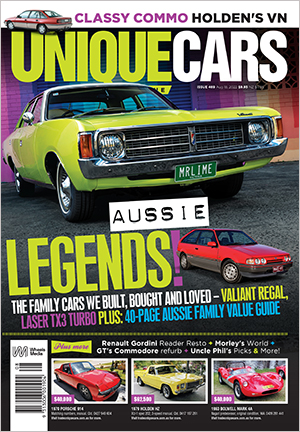 SUBSCRIBE TO UNIQUE CARS MAGAZINE
Get your monthly fix of news, reviews and stories on the greatest cars and minds in the automotive world.
Subscribe