Chrysler Valiant Pacer: Buyers Guide
---
Underrated for a long time, the Valiant Pacer is becoming increasingly collectable.
Chrysler Valiant Pacer
It was Ford that kicked off the power wars of the late-'60s, introducing the V8-powered Falcon GT that cruised to victory at Bathurst in 1967. Holden fought back with the brutish GTS Monaro, capturing the next two Bathurst wins and the battle for the hearts and wallets of local muscle car fans was on.
Not to be left by the wayside Chrysler Australia released its own fast four-door in 1969, a low-cost, red-hot version of its bread-and-butter Valiant sedan. Featuring a high-performance six-cylinder engine and three-speed manual gearbox, the cheap and garish Pacer was aimed firmly at the youth market, previously ignored by Chrysler.
Although lacking the V8 grunt of its rivals the Pacer could race to 180km/h and, at $2798, was a lot cheaper - $400 less than a basic GTS Monaro.
The first-generation VF Pacer was powered by a high-compression version of the trusty 225cu.in (3.69-litre) 'slant six'. With two-barrel carburettor, it pumped out 130kW at 4500rpm and an (undisclosed) bucket load of torque.
Standard stoppers were finned, servo-assisted drum brakes all round, although most buyers wisely opted for the front discs which were available.
Underneath was Valiant's basic torsion bar suspension, lowered by 125mm to improve handling and with a front anti-sway bar fitted. A 'Sure-Grip' limited-slip diff with either 3.23:1 or 2.92:1 ratios was optional.
Despite a lack of exterior chrome, the VF Pacer stood out with its red and black grille, 'fake alloy' hub caps, special body striping, 'Pacer 225' decals, and choice of wild exterior colours.
The sparsely trimmed interior featured high back bucket seats, and distinctive black on white instrument dials with a dash top mounted tacho.
The 'square headlight' VG Pacer arrived in 1970 powered by a high-performance, two-barrel version of the new Aussie-made 245cu.in (4.0-litre), six-cylinder Hemi engine. Power was up to 138kW at 4400rpm with a hefty 325Nm on tap at 2000rpm.
Front brakes were now 279mm ventilated discs, with optional power assistance. Inside, there was a new in-dash tacho, lower seats and carpet instead of rubber floor mats. A 'Mod Pack' comprising black bonnet patches and 'spoiler stripes' was available to spice up the exterior.
A two-door Pacer based on the VG Hardtop was available in 1970 complete with two-barrel 4.0-litre Hemi and 'Mod Pack'.
Then came a batch of 'four-barrel' Pacers, released for the 1970 Bathurst race, powered by race-spec Hemi engines producing 157kW at 4800rpm and 320Nm at 3800rpm. Heavy-duty equipment included a twin-plate clutch, close-ratio three-speed gearbox, and optional 160-litre fuel tank.
Both two-barrel and four-barrel Pacers lined up at Bathurst, but it was the more reliable two-barrels that finished second and third in their class and fourth and fifth outright.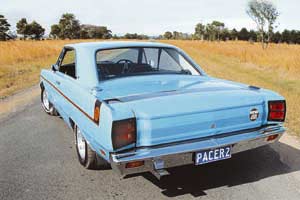 ON THE ROAD
Contemporary road testers were mostly full of praise for the Pacer, noting there were few cars that could match it on a performance for price basis.
Modern Motor (May, 1969) took a VF Pacer sedan to 60mph (100km/h) in a respectable 10.5secs, the quarter-mile in 17.5secs and topped out at 178km/h.
The Hemi-powered VG faired better, clipping the 100 in 8.8secs, quarter-mile 16.4secs, and topping out at 188km/h (Modern Motor, July, 1970).
Probably the biggest criticism was directed at the poorly designed three-speed manual 'box, which had stiff changes and no lock-out to stop reverse gear being accidentally selected.
Pacers were a bit skittish on rough roads, particularly under hard braking, and getting a sideways car back on track was hard work at the wheel with an arm-wrenching four and a half turns, lock-to-lock.
On the positive side, the lowered suspension and front anti-sway bar helped smooth out some of the Valiant's body roll, although ride was a bit harder than on normal sedans.
Any Pacer fitted with the optional limited-slip diff and front discs was certainly preferable if you wanted to safely exploit its go-hard potential.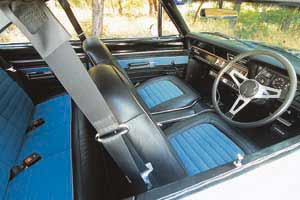 BUYING
Pacers are still great value when compared to other 30-year-old Bathurst classics on the market, despite asking prices rising in recent times.
Due to the type of owners they would have attracted, many Pacers are now more than likely to be suffering from some degree of neglect as well as accident and rust damage. A number of Valiant Hardtops were chopped and turned into fashionable convertibles back in the '80s.
Prepare to pay from around $2000 for a rough, VF sedan, to $12,000-plus for a rare four-barrel, if you can find one, and slightly less for the '2bbl' cars.
VG sedans in excellent condition go for around $7000, Hardtops slightly less, while budget around $5000 for a VF sedan in good condition.
Of less interest to collectors is the final run of VH Pacers, sold as sedans with the bigger 265cu.in (4.3-litre) Hemi engine. A big-bodied VH in excellent condition is worth around $5000.
ON THE PACE
Victorian Michael Vale fulfilled a childhood dream when he bought his 1970 'two-barrel' Pacer Hardtop about five years ago.
Since changing hands the Pacer has been the subject of a bare metal restoration, receiving new Thar She Blue paint and a fresh interior.
The 4.3-litre 'Charger' Hemi engine - fitted by a previous owner - is now fed by a four-barrel carbie and has been converted to run on unleaded fuel.
Other personal touches include the 15x8-inch Bathurst Globe alloy wheels and low-profile tyres, blue inserts on the seat trim, and a Charger padded steering wheel.
As he drives it fairly regularly, Vale has also added modern features like cruise control, central locking, and halogen headlights.
Interestingly, Vale claims that the Pacer's Torque-Flite three-speed auto was fitted at the factory, making it a rare exception to the majority of manual cars.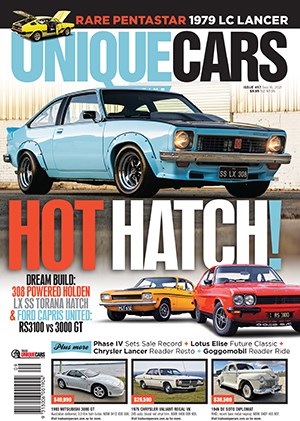 Subscribe to Unique Cars Magazine and save up to 42%
Australia's classic and muscle car bible. With stunning features, advice, market intelligence and hundreds of cars for sale.
Subscribe