Ford V8 (1932-48) Buyer's Guide
---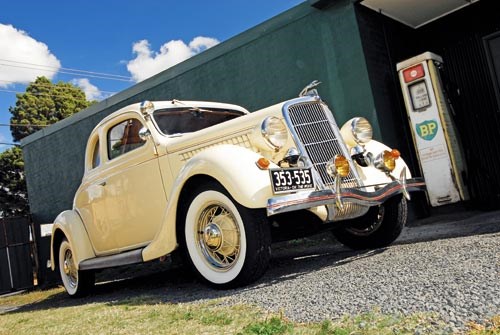 Ford V8 (1932-48)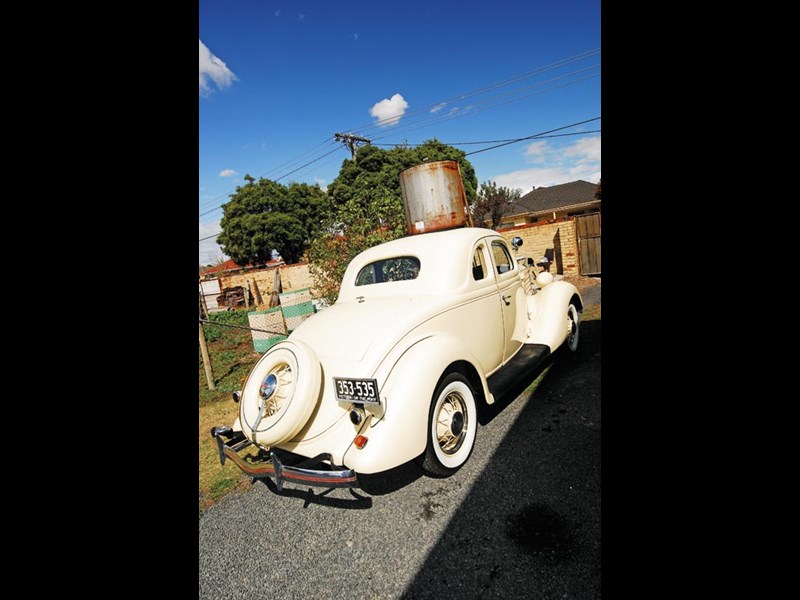 Ford V8 (1932-48)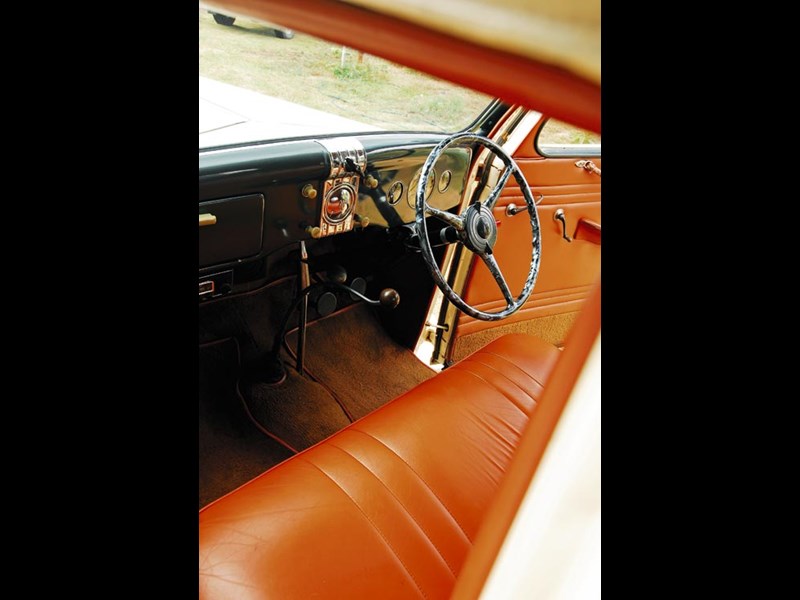 Ford V8 (1932-48)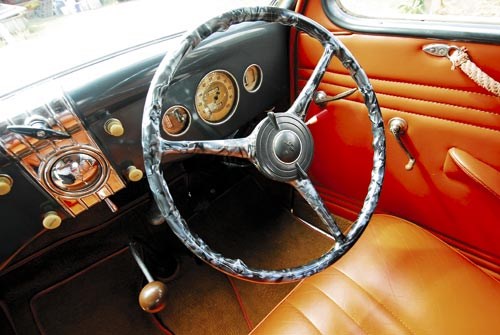 Ford V8 (1932-48)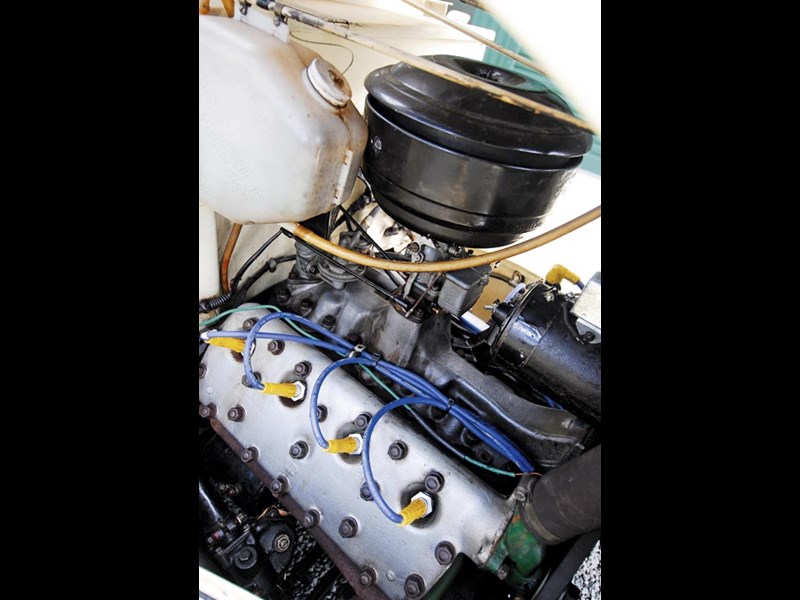 Ford V8 (1932-48)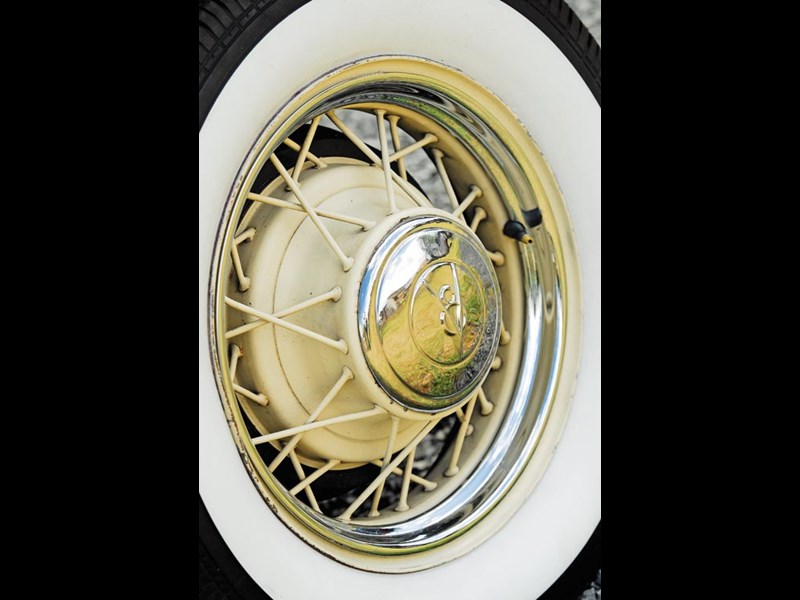 Ford V8 (1932-48)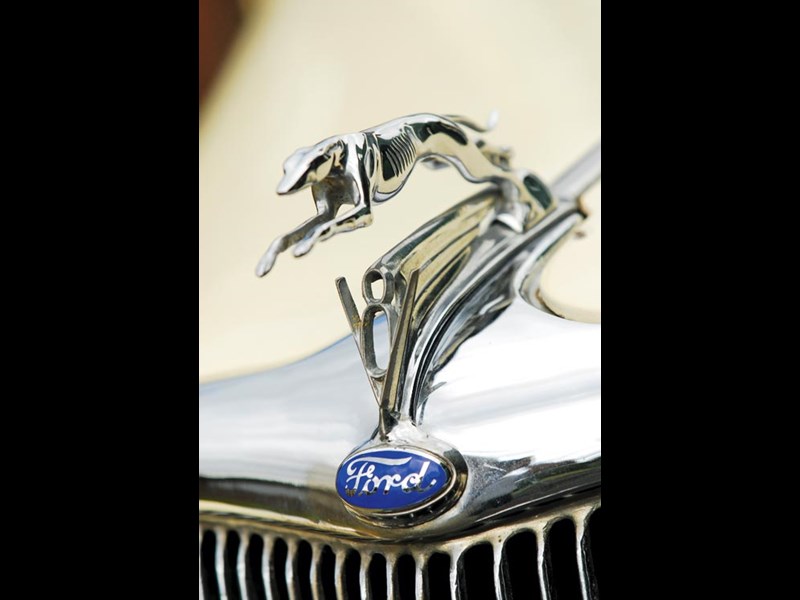 Ford V8 (1932-48)

The company that put the world on wheels started the V8 craze as well
Ford V8 (1932-48)
Celebrity testimonials have sold many motor vehicles, but what harm would come to a manufacturer which revealed that its latest offering had been described as "a dandy car" by one of the era's most notorious criminals?
None, apparently, and while Ford never officially quoted an alleged endorsement from Clyde Barrow – who with girlfriend Bonnie Parker drove stolen Ford V8s throughout their brief but well-publicised crime spree – leaks of its content did no harm at all to demand for the company's still-novel V8.
Before 1932, V8 engines were expensive and the province of quasi-luxury models that were well beyond the means of 'The Average Motorist'.
A time of economic catastrophe might seem a suicidal point at which to introduce a car with more cylinders than seats but Henry Ford was never renowned for his adherence to convention.
Due to the strength of his business, Ford was also able to offer the eight-cylinder cars at just five dollars more than the four-cylinder model, which remained available until 1935, and advertise the V8 as 'A Great New Car At An Unusually Low Price'.
To ensure continued dominance of the North American market, Ford offered a 15-model range of open and closed cars plus a station wagon with body timbers supplied by its own forests. Prices began at $490 for a Standard Coupe, with the Deluxe Fordor sedan at $610 and the Wagon costing $640.
Australia since 1926 had assembled T and A Models and Ford Australia quickly put its own signature on the V8 range.
Body styles available in our market included sedans, coupes, roadsters, a rare five-seat Phaeton convertible and the Australian-devised 'coupe utility'. Early V8s used traditional timber-framed bodywork, with 'all-steel' bodies introduced for 1935.
The original V8 developed 75hp (56kW) from its 3.6 litres, with output increasing to 63kW by 1938. It reached 74kW once engine size was boosted to 3.9 litres and the original 5.5:1 compression ratio had soared to 6.8:1.
Ford styling was modernised for the 1935 model year – front hinged doors, larger mudguards, a more elegant radiator grille and a built-in 'trunk'. The shape continued to evolve until 1942 when a completely restyled body appeared. With the intervention of WWII, this was the car that greeted post-War buyers and sold more than 1.2 million units before being replaced in 1949 by the all-new Custom.
Australian production after 1945 was restricted to four-door sedans and two-door commercial vehicles, but US factories continued to churn out coupes, convertibles and station wagons. Rarest of these were the timber-panelled Sportsman soft-tops, with fewer than 3000 made in the space of three years.
During 1939 Ford introduced its Mercury nameplate – an upmarket variation on the mainstream range. Sitting on a wheelbase 10cm longer than the cheaper Fords, Mercury models were offered with more powerful 70kW engines and features including hydraulic brakes and a short-lived 'Liquamatic' automatic transmission.
ON THE ROAD
Had the headline writers of the 1970s been around when the V8 appeared – and not been nobbled by Ford's very effective Press Office – newspapers might well have decried the hazards of '80 Mile-Per-Hour Killer Cars'.
Sliding a V8 into a chassis designed to accommodate a four-cylinder engine was a scary prospect and one that today's potential owners need to consider.
These cars will easily maintain the pace of more modern models, but brakes and steering designed for 1930s traffic density demand care and familiarity. Unless you're experienced with cars of this age, testing an early Ford under a variety of conditions is essential.
The earliest V8s had cable or rod-activated brakes which demand constant adjustment and can generate serious instability if applied hard. Stopping improved after 1939 when hydraulic brakes became available.
The front-end comprises a beam axle, transversely-mounted leaf spring and 'knee action' shock absorbers. While this arrangement might seem primitive, remember that in 1954 a V8 driven by the redoubtable 'Gelignite' Jack Murray won the 15,000km Redex Trial without losing a point for lateness or vehicle damage. Any pothole you might encounter is unlikely to worry a pre-1949 Ford.
Rear-seat occupants are treated to relatively luxurious surroundings while those traveling up-front suffer reduced hip and leg room. A 5cm wheelbase extension from 1940 helped a little. The steering wheel is large and the pedals will be a stretch for shorter drivers.
Building its cars to a sensational price, Ford omitted all but the basics, but offered an options list that included side-mount spare wheel, leather upholstery, a clock and luggage rack. Improvements made by previous owners can include conversion of the original 6v electrics to 12v, installation of a heater and later-model brakes.
Chuck Berry's assertion that "nothin' outruns my V8 Ford" might not be absolutely true but 1940s cars with their high-compression engines were certainly quicker than six-cylinder rivals and capable of 140km/h.
The three-speed gearbox with its spindly, floor-mounted lever takes a little practice to master and there is no synchromesh on first gear. However, with low gearing and an engine that delivers its maximum torque at 2000rpm, first is rarely needed. That gearing, however, took a toll on fuel consumption which averages 16L/100km.
Simplicity and popularity make these cars an excellent choice for the novice old-car owner. Parts are easily obtained and those of only moderate mechanical talent can rebuild one of these engines on the garage floor. Routine maintenance is inexpensive; a full kit of engine hoses, for example, costs less than $100.
BUYER'S CHECKLIST
Body & Chassis
The vast majority of early V8 Fords will have undergone at least one major restoration, so checking the quality of workmanship performed is vital. Lumps of body filler around wheelarches and bubbling paint will strip thousands from the value of an otherwise presentable car. Timber framing used in pre-1935 cars can rot and warp and is difficult to inspect. Look for stained hoodlining, doors that are difficult to close and bulging panels. The chassis structure is strong but running board supports and spring attachment points are vulnerable to rust. Damage to the grille, bumpers and other brightwork will be costly to repair.
Engine & Transmission
Simplicity and popularity make these cars an excellent choice for the novice old-car owner. Cast-iron cylinder heads are difficult to find but later alloy heads are being remanufactured and cost around $1000 each. A metallic knocking when the accelerator is floored in higher gears indicates bearing wear. These engines even in sound condition will blow some smoke, but clouds from the exhaust when accelerating are not normal. Overheating is a common occurrence and usually due to a failing water pump or blocked radiator. Leave the car to idle before switching off and watch for leaks or escaping steam. A worn transmission will be noisy and possibly jump out of second gear.
Suspension & Brakes
The mechanical brakes need frequent adjustment to work effectively. Cars built after 1939 can be converted to hydraulic operation. Some steering play is normal but wandering or pulling to one side when braking points to worn front-end components. Check the springs for cracks and shock absorbers for leaks. Pre-1935 cars had wire-spoke wheels which need close examination for buckling and missing spokes.
Interior & Electrical
Not a great deal to fail with rudimentary electrics and a minimum of components. The 6v system is marginal and needs to be well maintained, so inspect under the bonnet and even behind the dash for frayed or taped wires. Cars that have been converted to 12v will be more practical for regular use. Make sure that all gauges and lights work and that the car will start even when the headlights are switched on. Trim can be vinyl, cloth or leather and worn seats or floor coverings can be replaced with reproduction materials.
SPECIFICATIONS
Ford V8 (1932-48)
Number built: 6.6 million (approx)
Body: all-steel (1935 onwards) separate body/chassis two and four-door sedan, coupe, roadster, phaeton, utility, panel van and station wagon
Engine: 3.6 or 3.9-litre side-valve V8 with single downdraft carburettor
Power & Torque: 74kW @ 3800rpm/243Nm @ 2000rpm (3.9-litre)
Performance: 0-100km/h – 19secs (approx). 0-400m – 24secs (approx)
Transmission: three-speed manual
Suspension: Front – beam axle with transverse leaf spring and lever-action shock absorbers. Rear – live axle with transverse leaf spring and lever-action shock absorbers
Brakes: drum/drum mechanically activated (pre-1939) drum/drum hydraulic (1939-48) unassisted
Tyres: 5.50x17 or 6.00x16 crossply
Contact: Early Ford V8 Clubs in most states.
Website: – http://www.earlyfordv8qld.org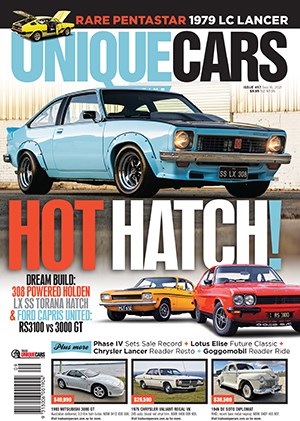 Subscribe to Unique Cars Magazine and save up to 42%
Australia's classic and muscle car bible. With stunning features, advice, market intelligence and hundreds of cars for sale.
Subscribe