Tales from under the hoist - Mick's Workshop 464
---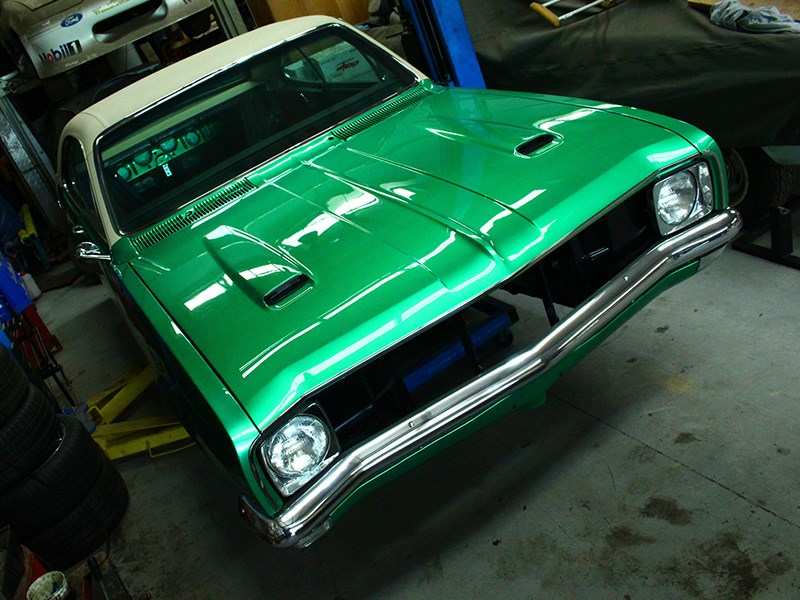 The great internet parts conspiracy
A problem we have in the modern world is the ancient game of parts-chasing, which has become a lot more difficult in recent times. It doesn't seem to matter whether it's for your road or race car, times are interesting. What we're seeing come off the internet is about 50 per cent incorrect – the number is huge. It's a daily occurrence, and you can't blame the public.
People are trying to buy at the best price, without having to trawl around physical shops, and the internet seems like a good place to do it. But the problem is, the seller has your money and you have the part and it's not fit for purpose.
A good example is Ed Guido's 1989 Benz 300 SEL. We warned him the ball joints were on the way out and he did the right thing and ordered a full set of uppers and lowers. When they turned up, the uppers were okay, but the lowers were the wrong size. Luckily, a local supplier had a spare set sitting on a shelf.
It seems logical that an overseas supplier in a big market like Europe and America will have the stock. But all too often it's the wrong stock. There's something to be said for buying locally, and maybe having to be patient when it takes ages for the parts to turn up. Supply lines are difficult at the moment and freight is astronomical.
We're also seeing a lot of counterfeit gear, so there are some traps out there. More than ever, you need to plan well ahead and buy locally.
One step forward...
You might recall Tom's lovely Monaro, which has been a big custom build. Of course there has been a lot of fun and a lot of challenges along the way, and I had to laugh at the latest one. We had our mates over at Duggans make us a custom tailshaft, a lovely piece of work. It copped a couple of little scratches on the finish as it was being installed. Normally we'd touch it up with a little black nail polish.
However this is a very special build, so my mechanic decided to mask it off and give it a full respray with a black satin finish. Only problem was, the two different types of paint reacted with each other! So we ended up ringing Duggans, checking what they use and doing it again. It's laugh or cry in these situations. That's custom build – you have to roll with the punches. There are two kinds of people involved in these situations: Those it's happened to and those who lie about it.
Anyway, Norm from Desert Coolers was in this week, measuring up for the radiator and air-conditioning condenser, so hopefully we'll have those soon.
HERE'S MY TIP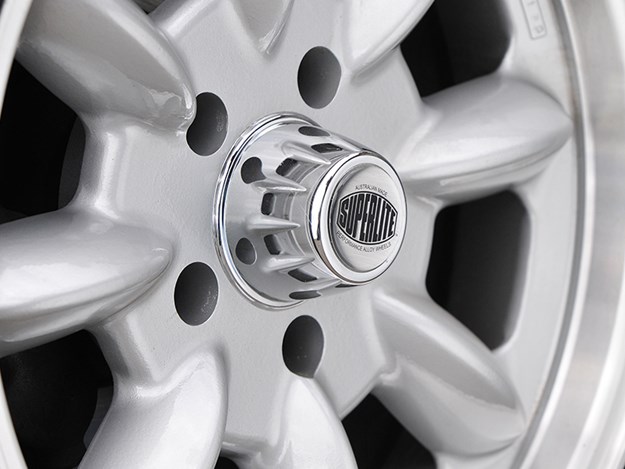 If you're running an older vehicle, keep in mind the thread on your wheels studs have a finite life – they'll only work so many times. If they're quite firm to undo and do up again, that's a sign the thread is starting to deteriorate. Running a tap and die over them might freshen them up, if not replacing the studs is not that difficult. It's nothing to be scared of. However, losing a wheel is!
LETTERS:
1940s Style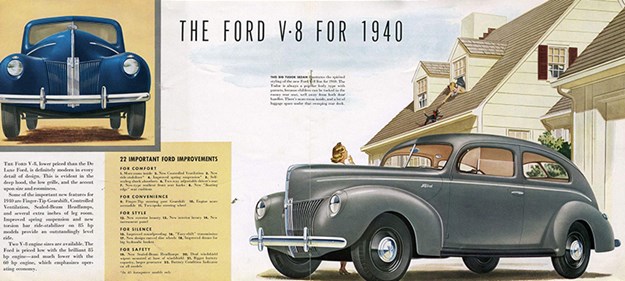 1940s cars aren't as scary to own as you may think
I'm kind of in the market for a 1940s-era car, and at this stage am not fussy over what make. However what does scare me is how different is the technology to something a little more modern from the seventies and eighties, which is what I'm more used to.
Is there something special I should be looking for?
John Cussins
THE GOOD NEWS is there is no great rocket science or weirdness to cope with. The technology is well established by then, relatively simple and familiar enough to work on. We're talking mechanical brakes in a lot of cases, lots of sidevalve engines, no synchro in many cases, king pin steering, lever-action shockers, and six-volt electrics. Sometimes parts are an issue, but rebuilds are nearly always possible.
It doesn't matter whether the car is European or American, if you like it you should have a go at it
Not the Ute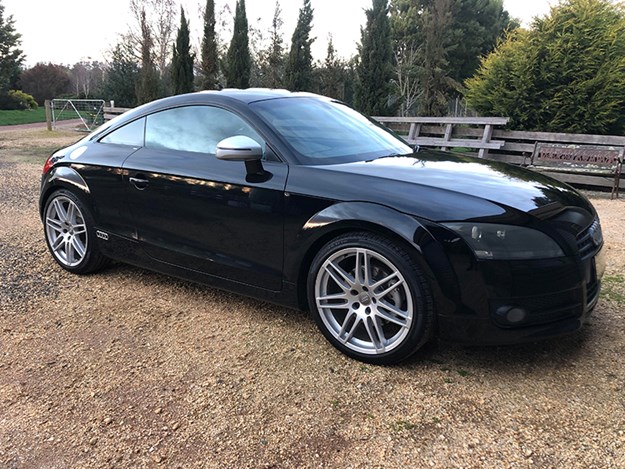 So, I went out to buy a ute...
A little while ago I asked advice on purchasing modern ute which may increase in value over time, you asked how we went and to let you know?
As it panned out over the last few months we looked at a few. Both Holden and Ford utes, but most have been owned by P plate drivers and were near stuffed, or with very high kms, or the good ones were so expensive they have already made any gains on value.
Your recommendation when owning a vehicle is to have fun and enjoy the vehicle whilst you have possession of it. Any gains in value over time is a bonus, but probably not enough to cover repairs, rego and insurance. But I knew this already of course, but the manager of the credit card sometimes requires another opinion.
So I brought a vehicle to have fun in. An Audi TT with a stage one tune, fat tyres and a fantastic driving position. I have pulled out the back seats, increased the brake size and put in a heavy-duty clutch and it is now a track day, back road blast car for a little over $10k. (See photo) Mum has now in the meantime put a deposit on a Tesla as well due to high petrol costs.
It is funny which direction, when wanting to buy a vehicle, will send you on?
Andrew Taylor
WE HAD TO LAUGH at this one Andrew – you certainly not the first person to go out to buy something at get completely side-tracked along the way. And yes, we can easily imagine how much fun that would be on the right bit of tar. Congratulations, that looks like great value.
Parts Wrangle
Ed Guido mentioned in last issue's Editorial the dramas he was having ordering parts, it reminds me of a side issue with replacements that I am sure Mick know of.
When comparing price and availability it is very much a case of caveat emptor for the purchaser.
The market for non-original equipment (OE) replacements has ballooned over time, covering electrical units, body trims and lights, and including both static and 'fast moving' mechanical items.
Recently Dave Morley discussed the merits of some aftermarket plastic type suspension bushes fitted to a Commodore that seemingly and prematurely decomposed with time, rather than wear!!
Two years back yours truly organised replacement of the OE uni joints in the Compact Fairlane. This was a case of dried lubricant and excessive time spent in the shed, rather than wear and tear, given its low mileage.
The service centre that performed the work is above reproach but for whatever reason chose economy priced replacements. My concerns were raised when I noted the invoice parts price; (both items under $20), but given the retired life the car
enjoys, ran with the deal.
But to get some peace of mind I priced some Hardie Spicer (now Dana Spicer) units. Long story short, they were approximately four times the price and I purchased them. After sitting on a shelf in the shed for two years, and after the Ford has clocked up just over 2000kms since then, those HS units need to be installed before the tailshaft goes into orbit!!
In this case the producer of the 'el-cheapos' even has their name on the product.
Again, (as Mick might relate to) a proportion of the public are born wingers and always crying poor. All that attitude does is provide an ongoing market for these substandard components.
An old, but true adage: "you get what you pay for"!
Eric Waples
WITH YOU SO FAR, Eric. Cheap parts are often a false saving, usually because you end up having to go in and do the job twice!
CVT Shock
I had two enquiries this week from distressed owners. Both with Subaru CVT vehicles. both have failed transmissions at about 150,000 Kms and the fix it price is/was about $14,000 (!). I would be most surprised if the gearboxes on my vehicles failed at that juncture and would not expect a price like that?
Michael Pyper
WE'VE SEEN OTHER CVTs go at those sorts of mileages and, while they don't have the complexities of a lot of 'traditional' auto transmissions, they don't seem to last either. I think it's part of a larger trend where, like our phones and computers, they have a finite lifespan. Unlike the car we once saw handed down the generations, we're seeing more that, really, have a useful life of about seven years. The standard advice applies: Unless you have some skills and or want to learn them, a car that's already been restored is often cheaper in the long run than doing one up yourself.
Big Adventure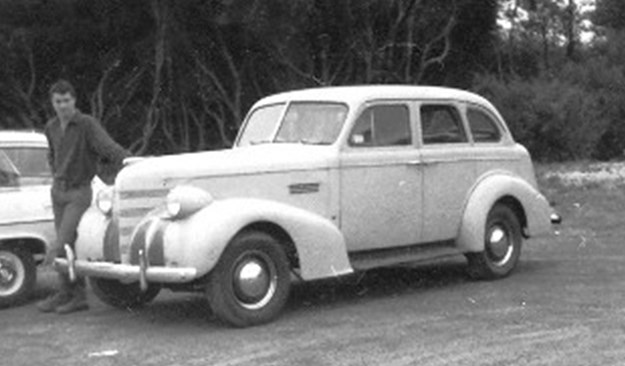 An east coast cruise that nearly ended in strife
I was 19 in 1966 when much to my dear ol' dad's despair I quit my 9 to 5 office job, bought a 1939 Pontiac and set out to follow my dream, bum my way up the east coast and be a free spirit.
It was a genuine one owner with a high 95,000 miles up and unfortunately it had been and unfortunately it had been resprayed a lousy undercoat grey. I overheard a kid in the street refer to it as "An old bomb car." Most upsetting.
Well that old car was just "buggin' me to go." (apologies to Lobo, Me & You & a Dog Named Boo.) I drove it all the way up to Proserpine where I parked it behind the pub when I met this bloke and we went croc hunting in his HD Holden wagon.
Returning a week later some of the carbon coated valves were stuck. Turning it over had it trying to fire with a nasty clacking I presume was some half open stuck valve tipping the cam.
Five Islanders walking by stopped as I was pouring petrol down the carby. With face tatts, one wearing an eye patch and bandannas, they looked like bloody pirates and one of them asked, "You got a bit of trouble whitey?" I was secretly terrified, but kept cool as I said that I was okay thanks.
Without hesitating they walked over, told me to hand over the bottle of petrol, jump in and steer the car while the bloke with the petrol sat on the front guard pouring it in and the others pushed. Well after pushing me the length of the main street, three or four cylinders fired up coughing and farting before all six eventually chimed in. I offered them some money with a huge thanks in response to which they brushed me off and went on their way. Those blokes were fantastic.
I'll never forget them. I drove straight home stopping only for fuel.
With no oil filter I changed the oil every 1000 miles. I discovered that squeezing in two sachets of Molybond actually stopped the valve problem for, you guessed it, about 1000 miles when it would remind me that an oil change was due by clacking and coughing.
Strange but true! I had a lot of fun at the drive-in and cruising around on Sunday with my mates boozing in the back. The boot was rather smallish but two blokes could lay side by side on the back floor with a blanket over them such was the space between the front and back seats. The body sat above the chassis so there was no transmission hump.
I owned it for fifteen months before financial probs made me sell it. I was blubbering as I watched that old car drive away out of my life.
Aussie Sadler
WHAT A GREAT STORY Aussie! It's interesting you mention the lack of oil filter. That was common for the time and into the 1940s, so yes you changed oil every 1000 miles at worst, earlier if it was looking foul. If you own a car of this era, it's often possible to retrofit an oil filter – in fact there used to be kits for popular engines such as the local Holden grey motor.
Astra of Happiness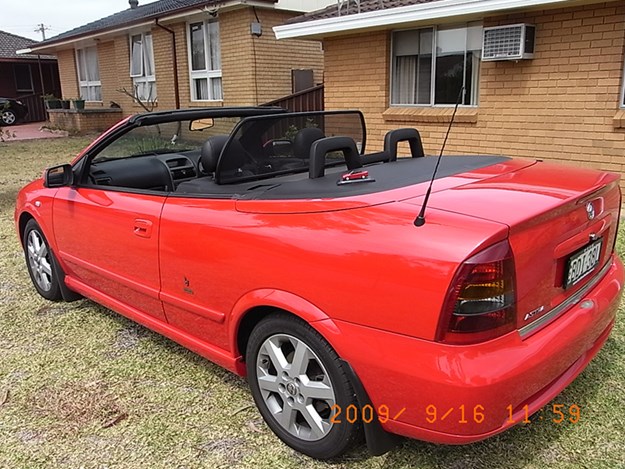 Love your column and the letters.
In issue 462 you published a letter from Jessie K re Holden Astra convertible and Captiva. I have a different point of view re the Astra.
In 2008 my wife and I bought an Astra convertible, 2004 model TS, 2.2 litre non turbo automatic as a retirement present. We still have it and still love it. Bought it with 11,000 on the clock and it has now reached 80,000. Other than routine servicing at our local Holden Service Centre, formerly dealer, and normal wear and tear items; tyres, brake pads and batteries (in 2011 and 2021, thanks to Covid) all we have spent any money on are two hydraulic hoses in the roof mechanism and a control unit for the electric boot opener. It still has the original soft top and even has the wind deflector.
We use it sparingly and lovingly and are not thinking of parting with it. It is no rocket but is a comfortable tourer.
On the matter of the Captiva, our son recently traded his in while it was hanging off the back of a tow truck.
One out of two ain't bad.
Ron E
I MAY HAVE been a little harsh on Astras and Captivas over time, but not entirely without reason when it comes to reliability. That said, get the right car and the right owner can turn the conventional wisdom on its head, as you're proving with the Astra. Nice long gentle drives and regular servicing can do wonders. Enjoy!
TRIVIAL PURSUIT
Synchro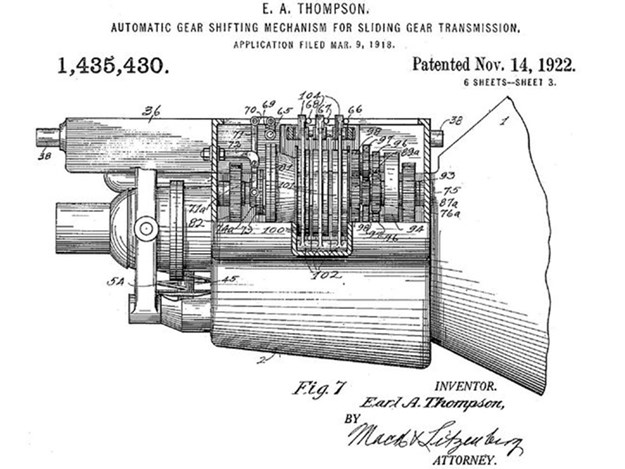 General Motors lays claim to the introduction of the synchromesh transmission, with a patent by Earl A Thompson, dated November 14, 1922. It saw its first commercial use in a 1928 Cadlillac.

Got a problem?
Want some advice on a build or a potential car purchase. Heck we'll even tackle long distance diagnosis. Drop MIck a line at uniquecars@wheelsmedia.com.au
From Unique Cars #464, March 2022
Unique Cars magazine Value Guides
Sell your car for free right here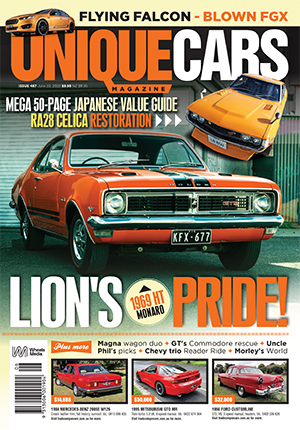 SUBSCRIBE TO UNIQUE CARS MAGAZINE
Get your monthly fix of news, reviews and stories on the greatest cars and minds in the automotive world.
Subscribe