Old HQ shifters, rolling disasters and dodgy tyres - Mick's Workshop 458
---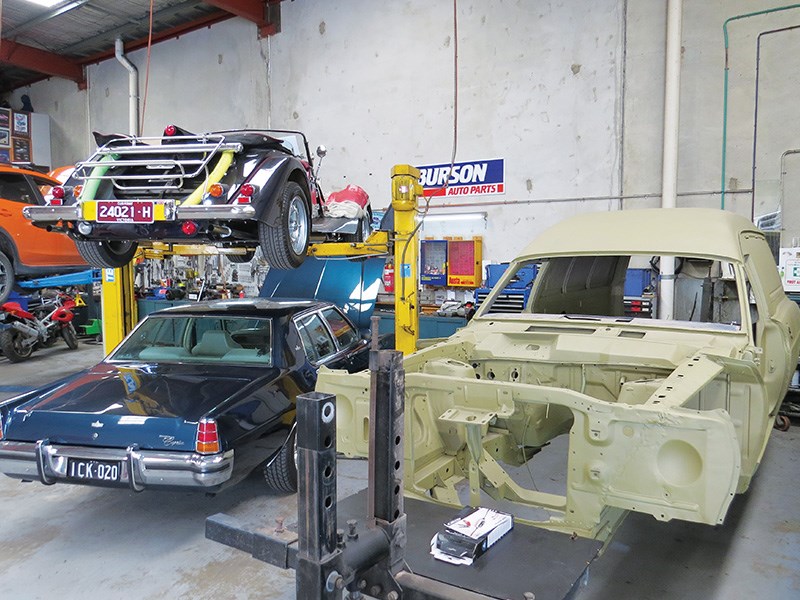 Sorting the HQ, disaster stories and tyre life
MICK'S WORKSHOP
Oil it up
We had a little disaster unwrap itself in the workshop the other day. A gent who I regard as highly educated and extremely intelligent, has suffered a bad case of Covid boredom – and that seems to over-ride anyone's capacity to think and make good decisions.
In a fit of madness, he and his mate – both of whom are cashed up – decided to go out and buy a Porsche 928S. Lovely car. Fast, usually well-built and becoming collectible.
The first sign of trouble was the peculiar noises, so they took it to a Porsche specialist, which was the right thing to do. They've pulled off the rocker covers from what is an extremely complicated engine, only to discover the hardening on the camshafts was letting go – the lobes were covered in gouges.
All these things can be fixed, but with a quad cam high-end motor, it's an expensive day out.
On the advice of their mechanic, they had the cams removed and sent them off to be reground and hardened. This could have been avoided long before our mates bought the car. And that's by changing the oil regularly with the correct type.
It's particularly important that older engines get the correct oils, and that goes even for something comparitively modern like a 928. Using later oils designed for later cars simply doesn't work.
On a lot of older cars, you must stick with a good quality mineral (which often uses a zinc additive) to get the results. And in that case I'd be looking at Penrite. Ever since John Dymond took over the company, two generations of owners ago, it's been one of the most reliable sources for lubricants on older cars. The company also has a web site for looking up the correct oil model-by-model, and the staff are very approachable when it comes to getting advice over the phone.
In many ways the service reminds me of another local firm that's been around for ages, Crow Cams. They too are helpful over the phone and have an impressive depth of knowledge.
So a simple rule: if the owner manual on your older car doesn't specific synthetic, forget it. Stick to mineral.
How often? Every 5000 kays or 3000 miles. Now I know many of us don't drive these things all that much, so make sure it's changed every year to 18 months, even if you've only done a few miles. Oil, like anything else, deteriorates over time.
And one last tip, if you're about to pull a car out of lockdown, now is a good time to change the oil, pump up the tyres and check everything is working!
HERE'S MY TIP
False economy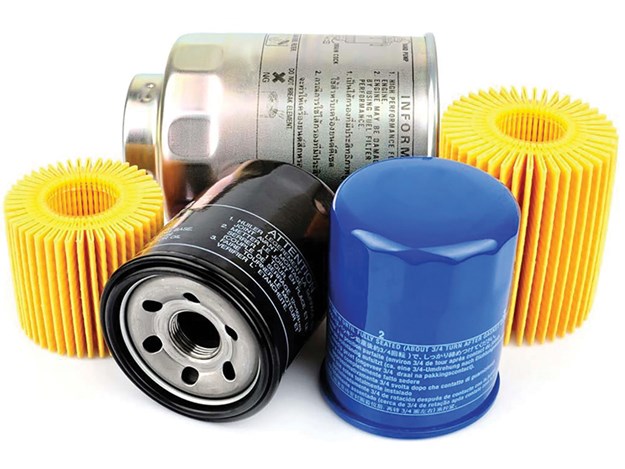 If you're changing your oil, change the filter. No ifs, buts or maybes. The cost is sod-all and is dwarfed by the potential benefits. The key to all this is the word 'filter" – it's there for a reason, and trying to save a few bucks by doing it every second change (or whatever) is definitely a false economy.

LETTERS:
Family Truckster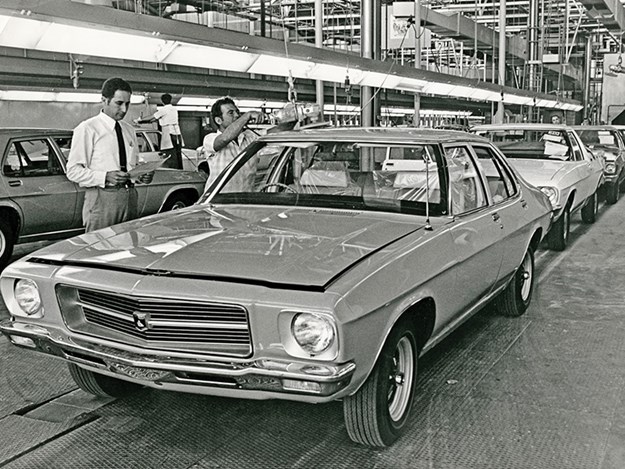 A six for its snout, not a bent eight, as Mick's latest project gets underway
Hi Mick. I've been lucky enough to inherit my grandparents' old HQ Holden wagon. It's a 202 with three on the tree.
So far it seems to be running okay, though there is one wrinkle. The gearshift will lock up in first if you try to go to second in a bit of a hurry. I've been shown the trick of popping the bonnet and wriggling loose the linkage, which works.
I hear they're famous for this – is there any way to stop it locking up?
Also, is there anything else we should look at?
John Farmer
YOu're very lucky, John, they're a great old bus. That lock-up happens because the linkages have worn. The way to avoid it happening is to take it easy on the shift, rolling it out of first, through neutral and into second. Do it gently and it won't lock – the problem always happens when you're in a hurry.
And yes there is a proper fix. There are bushing kits available specifically for that car and some adjustment available. You can also look at the rods and doglegs – it is possible to weld them up and refresh them.
Overall the mechanicals are pretty bullet-proof, and a service will do wonders. As part of that, you should pop off the rocker cover and check the overall condition of the valve gear. A compression test is a good idea. If you don't have a gauge, the old method is to remove the coil lead so it can't fire, then get someone to turn it over on the starter as you place your thumb over the spark plug hole. If it can pop off your digit, there's some compression there!
Long term, it can pay to change the points for a solid-state ignition. Just make sure you have 12 volts available to the coil before fitting it.
The engine's biggest Achilles heel is the original fibre timing gears, which can be swapped for a far more robust set of aluminium gears. That involves loosening the sump and removing the timing cover at the front of the engine.
All up, though, they're a great old workhorse that will take you around the country without raising a sweat.
Carb experts
Ed Guido's recent editorial on keeping up on the maintenance of our classic car fleets really struck a chord with me. And I've only got three cars and a motorbike to keep up with (67 Daimler V8, 2008 Alfa Romeo Brera V6, 2013 VW Amarok 4X4 and a 2010 Triumph Street Triple R). But I still need to run a spreadsheet to stay ahead of the curve. and I'd rather not think about the money they cost me.
Another issue I'm running up against is finding someone who understands the dark art of rebuilding carburettors, which is currently keeping my Daimler off the road.
While a lot of young mechanics are absolute whizzes at recalibrating EFI, with a Haltech and a laptop. They're completely stumped when it comes to resetting the float levels on a Stromberg. Never mind the more complex issues that double SUs, or even worse, triple Webers can throw up. It might not be a big issue in the larger cities. But up here in far north Queensland there's only one go-to guy to get the job done, who's very good. But he's so snowed under with work it can take six months to get your carbies back. The issue is so bad I'm now considering only buying cars that have EFI. Though I'll be very loath to get rid of my Daimler, which I'm willing to wait for.
Does anyone else have this problem, or is it confined to the boondocks?
Gary G Smith
YOU'VE HIT on a problem that's been developing for a long time, Gary. Carburettor specialists are very thin on the ground. Even in a place like Melbourne, with a huge fleet of classic cars getting around, specialists are few and far between. Probably the best established is B&M Wilson Carburettor in Essendon, which is the result of a couple of those businesses merging. The upside is that these days it's no big deal to get the work by remote. Most of these specialist places are used to sending components back and forth by mail. One thing that worries me a little is there seem to be very few people coming through and learning these skills.
From little things
Dave Morley recently invited stories on problems that started small and grew. This story is about a vehicle of sorts, but you set the precedent by using the example of aircraft tyres.
I worked for some time for a well known airline in the Middle East, and while not personally involved, I think the story is worth telling.
An Airbus 340-500 was being prepared for departure to Australia when the Captain, doing his external inspection, noticed a faulty taxi lamp on the nose gear leg. He requested this be rectified, but the parts were located several kilometres from the terminal so a small delay followed.
Anyone who has flown in the last few decades will likely have boarded their aircraft via a bridge connecting the terminal to the aircraft. In almost all these circumstances the aircraft will require a tug to reverse it away from the terminal on departure. With a delay and a shortage of tugs, the one attached to this aircraft was reassigned elsewhere. Now again, any regular air travellers may have observed the frenetic activity with vehicles of many kinds on the tarmac buzzing around an aircraft prior to departure.
And so it was that the driver of one of these vehicles, with the tug absent from guarding the nose of the aircraft, cut in just a little close and clipped one of the nose landing gear bay doors.
So now we have a nose landing gear bay door to be replaced. As the adjustment of this door is critical on closing, this of course means that a retraction test of the landing gear be done after the new nose gear door is fitted, and this means the aircraft in it's entirety must be jacked. Hundreds of passengers off!
Jacking a large aircraft weighing hundreds of tonnes is a delicate manoeuvre and must be done carefully. This airline employs people from many cultures, and the supervising engineer was from a Southern Asian culture that follows any instruction to the letter. The letter in this case included the requirement for fitting a tail strut after jacking to ensure no toppling backwards. Now the centre of gravity of aircraft, unless engines or heavy components are removed, is always forward of the main landing gear, and the jack points are aft, so the danger of toppling backwards is non existent.
A passing Western engineer advised against the fitting of the tail strut, but this was ignored and the strut fitted.
The new gear door was finally fitted, and the retraction test successful.
The aircraft was now very carefully lowered to the ground.
Alas, the tail strut remained in place. Three months in the hangar with an engineering team out from France, and millions of dollars later saw the aircraft back in service with a remanufactured tail section.
All for one lamp!
David Horn
OH WOW! That's a fantastic story. We see things like this the whole time, and most often it's a project that gets out of control. The classic for us is when someone spots a bit of rust near the base of the windscreen of their car and, next thing you know, the thing is in a million pieces across their shed floor, looking for a resto. Then they call us in because they suddenly realise they've bitten off more than they can chew.
Has anyone else out there got an out-of-control story? Drop me a line via uniquecars@wheelsmedia.com.au.

Tyred Out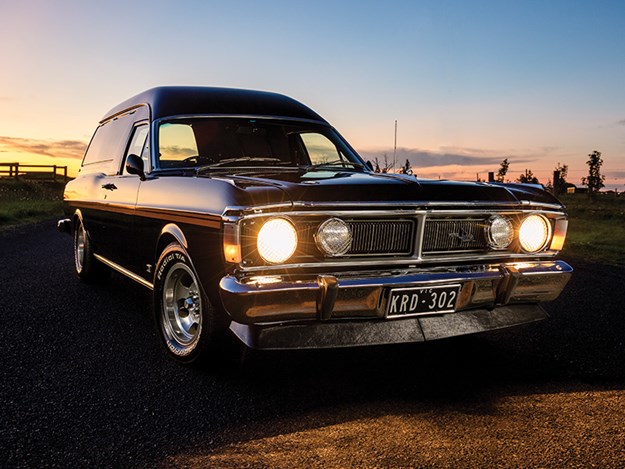 Tyres, many things, won't last forever. They have a use-by date
G'day Mick, I look forward to the pearls of wisdom you bestow on us humble weekend garage warriors.
I am lucky enough to own a very low mileage early 2000s SS Commodore. A mate told me I should replace the tyres. They are the ones it rolled off the Holden line on 20 odd years ago. Not only do the tyres look like new to me, they haven't even travelled 25,000kms. He said tyres have a use by date. Is this true?
Dick Stewart
YOU ARE indeed lucky to have low km future classic in the shed. Your mate is right. Tyres do have a shelf life of around 7-10 years, and the production date is marked on the sidewall. Other than driving, the biggest killer of tyres is UV, so if you are going to do a resto or hibernate the car keep tyres in the dark. If you can't find the date stamp head to your local tyre shop.
TRIVIAL PURSUIT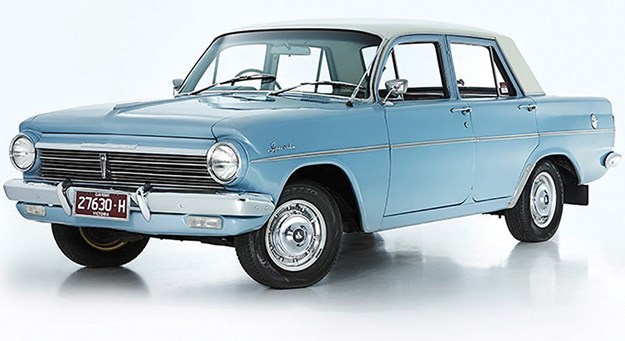 Gotta have one
Holden's EH range (1963-65) was such a runaway success that it sold 250,000 units in the first 18 months. That model alone at one point accounted for near 40 per cent of total Australian car sales.

Got a problem?
Want some advice on a build or a potential car purchase. Heck we'll even tackle long distance diagnosis. Drop MIck a line at uniquecars@wheelsmedia.com.au
From Unique Cars #456, Aug 2021
Unique Cars magazine Value Guides
Sell your car for free right here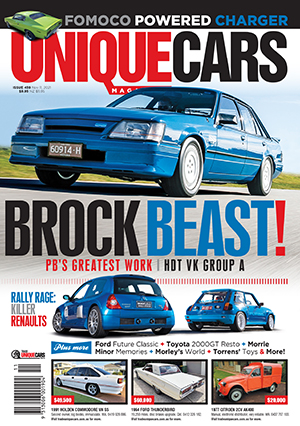 Subscribe to Unique Cars magazine for 12 months and save!
Australia's classic and muscle car bible. With stunning features, advice, market intelligence and hundreds of cars for sale.
Subscribe